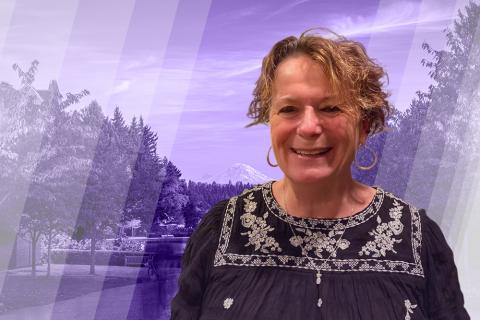 Hot Topics Moderator, Sue Grinnell.
With over 30 years of public health experience, Sue Grinnell joins the Northwest Center for Public Health Practice (NWCPHP) as she becomes moderator for the Hot Topics in Practice webinar series.
For nearly two decades, Hot Topics has been a monthly webinar series offered by NWCPHP as an opportunity to discuss urgent issues affecting public health practice. Sue believes, "We need to do anything we can do to support people by coming together to help with skills and capacity." The moderator helps influence the direction of the series and plays a key role in ensuring its relevance and importance to public health professionals, according to Betty Bekemeier, NWCPHP Director.
Sue received a bachelor's degree in Community Health Education from Oregon State University and a master's degree from the University of North Carolina Chapel Hill in Public Health Leadership.
At the Washington State Department of Health (WSDOH), Sue served as Special Assistant for Health Transformation and Innovation, Director of the Office of Healthy Communities, Director of the Office of Community Wellness and Prevention, as well as the state Chronic Disease Director and Maternal and Child Health Director. Before her nine years at WSDOH, she worked as Director for the Cowlitz County Health Department in Longview, Washington.
Sue has been a longtime advocate for multisector collaboratives and Accountable Communities of Health (ACH) sites. ACHs are unique, multisector partnerships that bring together health care, public health, social services, other local partners, and residents to improve health outcomes. They do this by addressing the health-related social needs of individuals and communities like food security, housing, and transportation access. Sue was instrumental in forming the initial ACH model in Washington and has been an integral part of 19 other sites, including 10 ACH sites in Vermont and 9 in California.
In 2015, Sue joined the Public Health Institute's Population Health Innovation Lab (PHIL) where she is currently the Director. "I'm proud of the growth and work the lab is doing to collectively make communities better by helping the folks who work directly with them increase their skill set," said Sue. It is a mission shared at NWCPHP.
Sue aspires to support public health collaboratives in approaching their work with pioneering practices and data-driven research. She sees her role as Hot Topics moderator to also spark curiosity and expose people to innovative ideas and ways to do work, new issues, and solutions. She will step into this role following Allene Mares, who has been the moderator since 2019.
Having held a range of roles at the local, state, and national levels, Sue loves scanning the public health environment for the hottest issues. "I feel like it is really important for people in public health to be aware of the trends and reflect as to what that means for their work," said Sue. "As technology changes, we have to grow with it."
The next Hot Topics webinar is February 28th from 12:00–1:00 PM Pacific. It will feature representatives from the Oregon Health Authority discussing their Rethink the Drink initiative, a unique approach to addressing excessive alcohol consumption. Visit Hot Topics in Practice to register for this session or to watch a recording of past presentations.