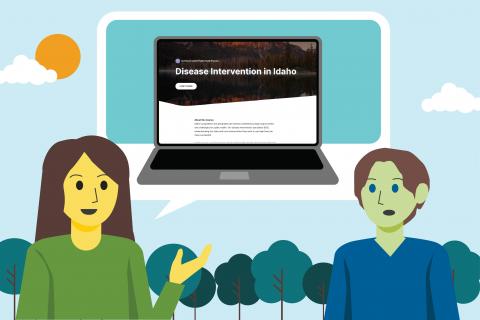 In partnership with the University of Idaho and with assistance from the Idaho Department of Health and Welfare, the Northwest Center for Public Health Practice has recently launched a new self-paced online training titled Disease Intervention in Idaho.
Idaho is a state of deep contrasts — from dense forests in the panhandle and quiet rolling plains bordering Yellowstone National Park, to the bustling Boise metropolitan area. Despite being known as a mostly rural state, its relatively small, though rapidly urbanizing population is among the fastest growing in the nation. With a lack of healthcare providers and an increasing demand for health services, Idaho has many unique public health challenges. For disease intervention specialists (DIS) — the public health professionals who investigate diseases that affect communities across the state — working within these challenges is simply part of the job.
Disease Intervention in Idaho was created to provide these professionals with the knowledge and resources they need to succeed in their roles — from conducting contract tracing work to investigating cases that address the spread of infectious diseases, especially sexually transmitted infections (STIs). The course also covers a variety of topics relevant to specific DIS job functions, such as working with health providers to assist patients in the disease reporting process, and understanding how to effectively navigate the state laws that govern the spread of infectious diseases.
Like the rest of the nation, Idaho's public health and healthcare sectors suffer from staffing shortages and a need for specialized training. Helen Brown, a Clinical Associate Professor at the University of Idaho's Department of Movement Sciences and a content developer for the course, believes that the new e-learning resource is one way to support this important segment of Idaho's public health workforce. "The DIS field is moving toward national standards and recognition," Brown said. "Raising awareness about DIS work through entry-level training will help grow and develop the DIS workforce needed to prevent and reduce disease transmission in Idaho."
Much of the course centers on scenario-based learning, making use of illustrated stories with characters based on real DIS workers. Dawn Amos, a Project Coordinator at the University of Idaho and a content developer for the course, worked to ensure that the material was as authentic as possible for learners. "To ensure that scenarios were realistic and applicable, we interviewed various DIS from across Idaho. The storylines featured in the scenarios are based on their real-life experiences," Amos said. "We wanted learners to walk away with a strong understanding of what Idaho DIS work looks like in action."
The course is one part of a collection of training materials called Idaho Disease Intervention Basics, which aims to educate Idahoans on disease intervention and encourage interest and competency in public health work. Additional resources in the package include STI education modules and cultural awareness training on sexual and gender diversity and trauma-informed care. This no-cost, self-paced, certificate-based training is available and accessed by creating an account on TRAIN and was made possible through support from the Centers for Disease Control and Prevention (CDC).
Visit the Idaho Disease Intervention website for more details.
Special thanks to Heather Averett, Samantha Ferrell, Cate Lewis, Jessica McClenahan, Andy N., and Sarah Wright for providing expertise and support toward the creation of this course.