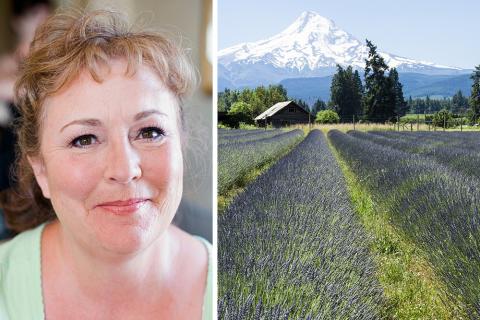 Lillian Anderson, MPH graduate from Oregon State University.
Each year, the Northwest Public Health Training Center funds students completing public health projects in Alaska, Oregon, Idaho, and Washington. Lillian Anderson, a recipient of funding during the 2018–19 school year, describes her project with the Oregon State Grange.
Many rural communities struggle with limited public health resources, inadequate access to health care services, and high rates of employee turnover. These challenges make it increasingly important for public health agencies in rural areas to understand and leverage the work of existing organizations to expand their reach. Lillian Anderson, an MPH graduate student at Oregon State University, used the funding she received through NWCPHP's Northwest Public Health Training Center to study one such potential public health partner for rural communities, the Oregon State Grange.
The Grange, or the National Grange of the Order of Patrons of Husbandry, was established in Oregon in 1872 to promote the needs and well-being of local communities with a focus on agriculture and farming. Peppered across the U.S., Granges serve as spaces for community gatherings, advocate for the needs of farmers, and offer a wide range of programming, including nutrition and exercise classes and rural skills workshops. To Lillian, who spent her teen years living in rural Oregon, the Grange struck her as an ideal yet overlooked partner for public health.
"This is an organization whose mission and goals closely align with those of public health. They are established as part of the rural landscape and have the trust and respect of rural populations. They offer physical locations for all types of health promotion and prevention efforts, and, in many cases, they are already actively engaged in addressing the social determinants of health," said Lillian.
Lillian found very little research in traditional academic journals related to the Grange's work. Hoping to build evidence to support them as a partner for public health agencies, as well as to explore the health issues the Grange commonly addresses in their programming, Lillian studied the Oregon Grange's state and national publications. She scoured seven years of publications and coded activities that aligned with the Healthy People 2020's five social determinants of health categories related to economic stability, education, community cohesion, health care, and neighborhoods, and found over 1,000 activities that matched these categories.
For example, in the area of education, the Grange is working to provide funding to students and increase access to continuing education through classes and workshops. In the area of health and health care, family health and health insurance are the top two areas of concern for the Grange. They are interested in increasing access to mental health care and providing tailored support to vulnerable groups within their community, such as the elderly and veterans. The Grange is also addressing economic stability by working on issues of food insecurity.
"Those of us aware of Grange activities are not overly surprised by the active level of commitment to what are clearly common issues of public health. What is surprising is the wide variety of public health activities the Grange engages in and the seeming lack of academic reporting," said Lillian.
With her initial work complete, Lillian is presenting her project's findings at public health and Grange state conferences, and hopes to continue building evidence for stronger public health partnerships.
Visit the Northwest Public Health Training Center for more information about student funding.
The Northwest Public Health Training Center is housed within the Northwest Center for Public Health Practice at the University of Washington School of Public Health. It is one of ten regional Public Health Training Centers funded by the Health Resources and Services Administration.