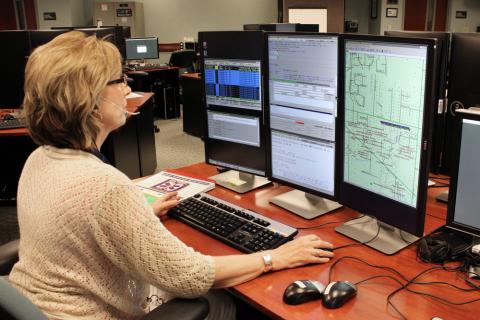 NWCPHP releases Stress Reduction Training for 9-1-1 Telecommunicators, a mindfulness-based course available to telecommunicators and the public.
One of NWCPHP's most innovative training products is now accessible to the public. The Stress Reduction Training for 9-1-1 Telecommunicators is the result of several years of research by one of NWCPHP's teams of public health practice-based researchers.
Led by NWCPHP faculty member Hendrika Meischke, PhD, MPH, the team studied on-the-job stress in 9-1-1 telecommunicators, the telephone first responders on the front line of the emergency response system. They found that stress had significant impacts on telecommunicators' job performance, personal lives, and health.
In response, the NWCPHP-based team created a training based on the concept of mindfulness. Adapted from trainings designed for other first responders, including police officers and firefighters, this stress reduction course helps participants learn mental habits that build the capacity to withstand stressful situations. The mindfulness-based curriculum includes lessons on connecting to physical sensations like breathing, gaining patience and perspective on thoughts and reactions, and developing kindness.
In a randomized controlled trial that included over 300 current 9-1-1 telecommunicators from across the US and Canada, participants reported significant reductions in stress as a result of the training. "I'm finding myself to be way less reactive, I'm more serene and calm, and less sensitive," one participant wrote. "My stress level is definitely lower and I will continue to use [mindfulness] to keep stress at bay," said another.
The Stress Reduction Training for 9-1-1 Telecommunicators helps participants make lasting changes with a format of short lessons spread over seven weeks. Each week, participants watch brief video sessions, supplemented by readings. They then perform a 10-minute audio-guided "daily practice" exercise each day for the rest of the week. All components are available on multiple devices, for additional convenience and portability.
While this training was designed with 9-1-1 telecommunicators in mind, it is open to all and broadly applicable to anyone interested in learning about mindfulness and reducing stress. Explore this no-cost training and begin reducing stress today.