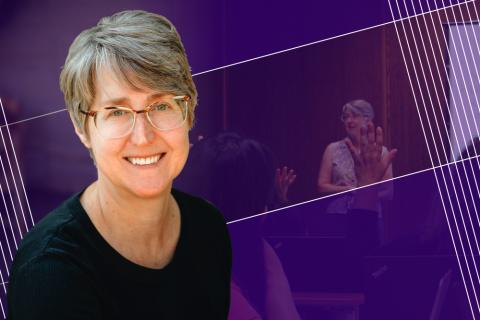 Grace Gorenflo has been teaching in the Public Health Management Certificate since its inception in 2011. As the Certificate returns from a COVID-imposed hiatus, we sat down with Grace to talk about the course material she teaches and the experiences she brings to the program.
Can you tell us about your background in public health?
I began working in healthcare as a clinical nurse in Washington, DC. For much of that time I was a charge nurse, so I had a lot of direct supervisory experience. Later, I earned my MPH from Johns Hopkins and worked for a long time with the National Association of County and City Health Officials (NACCHO) in Washington, DC.
For the past decade I've run my own public health consulting company, which has given me the opportunity to work with a lot of different individuals and groups. I lead trainings and facilitate teams working on health department accreditation. I've also done a lot of work with the Center for Sharing Public Health Services, where I help health departments build partnerships.
What is the focus of your course material?
I teach a course about managing people and teams. This material guides scholars in developing a skill set to lead and supervise a diverse staff.
At the beginning of the program, we start the on-site session with a workshop about emotional intelligence. This is also sometimes called your emotional quotient, or EQ, and it refers to how we experience, understand, and use our own emotions, hopefully in positive ways. We focus on how EQ and self-awareness set the foundation for good team management and developing our leadership styles. Successful relationships are what being a good manger is all about, and it's really important for scholars to be aware of and manage their own emotions.
I also lead subsequent webinars that build on this content and help scholars dig into the relational dynamics of teams, as well as strategies for staff management and development.
What are you most excited about as the Certificate begins again?
I'm excited that we'll be able to meet in person again. We weren't able to do that during the pandemic, but it's so important to be able to spend time with others in person and set up relationships.
I'm also really excited at how diversity, equity, and inclusion (DEI) concepts are being woven into all of the Certificate materials. These updates will become a really prominent part of my course and the Certificate as a whole, and I think it's just wonderful that we're expanding this focus.
Lastly, we have some truly amazing faculty involved in this program. There are some great teachers here who have so much experience and expertise, and they're very invested in the program and our scholars' success.
What would you say to someone who might be considering this Certificate?
First, I want to point out that the very existence of this program is unique. There aren't many opportunities like this, and I think it can be a very positive experience for anyone who's in a management position and looking to grow their career.
The breadth of materials covered throughout this program is great. All of the topics have been carefully curated and our scholars receive a lot of one-on-one coaching and support. I love the emphasis on peer learning and the networking opportunities it provides. Plus, all of our scholars receive a 360-degree skills assessment that provides wonderful support and feedback throughout.
This Certificate brings together so many disciplines and backgrounds —  both in terms of the scholars who attend as well as the instructors —  and still manages to look at everything through a public health lens. This is an amazing opportunity for managers to hone skills that are truly practical and applicable to their day-to-day experiences.
Applications for the 2023–24 Certificate program are being accepted through May 31, 2023. To learn more and apply, visit the Public Health Management Certificate.