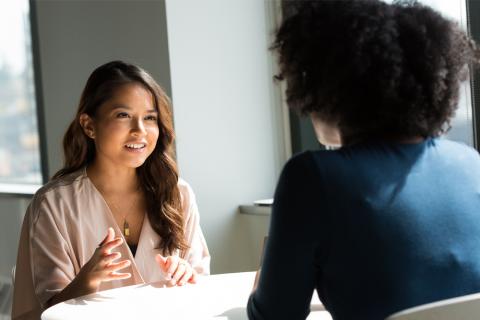 Many governmental public health employees are expected to retire or are considering leaving their positions in the next few years, and women, people of color, and younger employees are often underrepresented in agency leadership roles.
NWCPHP's new online resource, Mentoring Matters, can help public health organizations of all sizes address these issues and develop their next generation of leaders. The interactive course explores the roles, responsibilities, and functions of successful public health mentoring and mentoring programs, with a focus on equity-centered practices.
This course is divided into four sections: guidance for building a formal mentoring program, the match-making process within formal mentoring programs, and two parts on the roles and responsibilities of mentors and mentees, respectively.
The content development was informed by recent national reports about public health workforce interests and needs, and from interviews with public health leaders around the Northwest who were looking for practical solutions to their succession planning challenges.
Many public health professionals also note that their agencies aspire to make more systemic changes to address issues like racism and bias, but that there is a need for more tools on how to do this. With that in mind, discussions of equity and inclusion are incorporated throughout the Mentoring Matters course content, with special attention given to how these values can be put into practice.
The course also covers important concepts like building a culture of collaborative leadership and managing up, both of which can support more equitable organizations. Additional resources include sample individual development and mentoring plans as well as topics and activity ideas for mentor meetups.
Public health professionals from local, state, and tribal organizations of all sizes, particularly administrators, leaders, and workforce development specialists, will benefit most from this material. Similarly, people looking for engaging new workforce development strategies to help their organizations modernize for the new era will enjoy being challenged by this content.
Mentoring has been a hallmark of successful careers and training programs in nearly every industry, and it's catching on in public health too. There are many kinds of mentorship models, from informal to highly structured. The new Mentoring Matters course helps public health professionals determine the best approach for their organization, and gives leaders options for deciding the first step to begin developing mentorship in their team or department.
The no-cost, self-paced course takes one hour to complete and can be accessed by creating an account in PH LearnLink. Want a sneak peek? Watch a recording of the recent Hot Topics in Practice webinar for a review of the course and a deeper dive into the interview findings that informed its development.