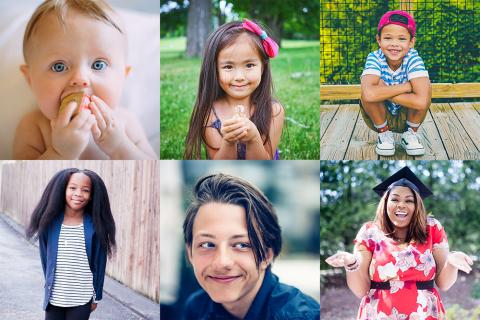 NWCPHP's new three-part training helps injury and violence prevention advocates use research about childhood and adolescent brain development to guide their efforts. 
For injury and violence prevention advocates, it can be challenging to choose the most effective ways to keep children and adolescents safe from harm. NWCPHP's newest online course, Safe at Every Stage: Injury and Violence Prevention and the Developing Brain, helps advocates combine neuroscience research, basic data use skills, and collaboration strategies to guide prevention efforts for different ages in their regions.
As young people grow up, their injury risks change with each stage of brain development, from infancy through early adulthood. So do the factors that help keep them safe and resilient. With so much at stake, and finite resources available, public health professionals can use research about injury risk and brain development to help them understand data and set priorities for action.
"Injuries are a leading cause of death for children and youth under 25, but most serious injuries are predictable and preventable," said Karyn Brownson, MSW, Community Safety Manager, Violence & Injury Prevention at Public Health – Seattle & King County (PHSKC), and the content designer for the course. "Brain development research can help public health and safety advocates better understand trends in injury among young people and make informed choices about where to allocate limited prevention resources."
The online course is divided into three parts that can be completed all at once or separately.
In part 1, users will learn how knowledge about brain development from infancy to early adulthood relates to childhood injury and violence, and why this connection matters. They also review risk and protective factors for each age group.
Part 2 focuses on using injury and violence data. Users learn to incorporate neuroscience knowledge and social determinants of health into finding, analyzing, comparing, and interpreting local data across age groups to tell a story and identify local challenges and priorities.
In part 3, users apply what they learned in parts 1 and 2 toward collaborative efforts to prioritize, plan, implement, evaluate, and advocate for optimal injury and violence prevention strategies. This section covers working with community partners, identifying local gaps and connections to existing work, taking action, and considering information in the context of the big picture—from the individual level to society, environment, policy, and systems­­—to make effective change.
Developed in collaboration with PHSKC, this course builds on years of NWCPHP's expertise and efforts in injury and violence prevention, which have included webinars, resource guides, and a summit for leaders from around the region.
The course is available at no cost and is intended for public health and health care professionals, safety advocates, and public health students. Visit Safe at Every Stage: Injury and Violence Prevention and the Developing Brain to start learning today.