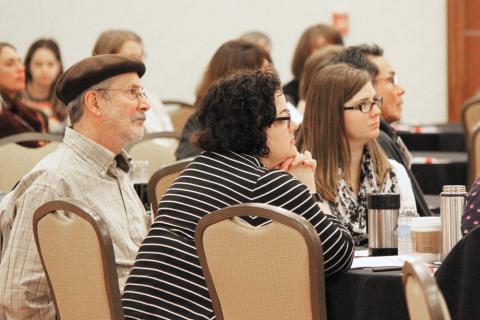 Attendees at the Transforming Injury and Violence Prevention Summit gathered to discuss strategies for policy development, practice-based approaches, and partnership building.
It takes every piece to solve challenging puzzles like family and community violence, gun safety, suicide, and drug overdose—but it can be done. This was the takeaway message for attendees at the recent Transforming Injury and Violence Prevention Summit hosted by NWCPHP, the Harborview Injury Prevention & Research Center, and the Washington State Department of Health.
Throughout the day-long event, a variety of plenary and breakout sessions stimulated discussions among participants on the current and needed strategies for addressing these issues around the region. The event began with a welcome from the three host agencies.
"It takes many of us working in the areas of policy development, advocacy, education, health care, and more to improve health," said summit emcee and NWCPHP faculty member Tao Sheng Kwan-Gett, MD, MPH. "These issue are complex, but unlike chronic disease prevention, we can see positive results more quickly. We can start building sidewalks that improve pedestrian safety today," he said.
In her opening remarks, Monica Vavilala, MD, Director of the Harborview Injury Prevention and Research Center, prompted participants to partner with her center to collaborate on research, share information with policy-makers, and raise awareness. Setting the stage for the day's discussion, Washington State Secretary of Health John Wiesman, DrPH, reminded participants there is still much to be done in this area.
"Violence and injury are important health equity concerns," Wiesman said. "Everyone has the right to the same opportunities to lead a healthy, safe, fulfilling, and productive life; but you can't be healthy if you aren't safe."
After the welcome, summit participants stayed together to hear morning keynote speakers address how the Affordable Care Act is helping public health and health systems reunite after years of walking divergent paths. In this session, Shannon Frattaroli, PhD, Associate Director for Outreach at the Johns Hopkins Center for Injury Research and Policy, challenged participants to engage with policy-makers by sharing data and emphasizing solutions for these tough issues. Bill Wright, PhD, Director of the Center for Outcomes Research and Education at Providence Health & Services in Oregon, urged public health leaders to "provide a path for measuring population health" by teaching about community-based health models and explaining the social, cultural, and biological influences on health.
During the mid-morning and afternoon, participants split into smaller groups to attend breakout sessions about sexual assault, marijuana legalization, suicide, gun violence, and more. Many attendees appreciated the topics covered and noted the benefits of meeting face-to-face. "I appreciated meeting so many people with overlapping interests that I otherwise might not have met without this type of event," said one participant.
Attendees reconvened at midday for more networking and lunchtime presentations about population-level data, work in native communities, and how technology could influence future injury and violence prevention work. In the final session Ben Danielson, MD, Medical Director at the Odessa Brown Clinic, made a call for action to promote health equity. He urged participants to "be creative, innovative, and open in seeking out unusual partners to advance this work" and to "listen to the wisdom of communities."
To close the summit, Kwan-Gett led a panel discussion of how participants could take what they learned back to their respective agencies and keep the momentum going. He noted "respect, relationships, and resources" as equally critical to carrying this work forward.
In the coming weeks, the planing committee will review evaluation data from summit participants and consider next steps for partnerships and training. Visit the summit webpage to access slide sets from the presentations. View the NWCPHP Facebook album for event photos.