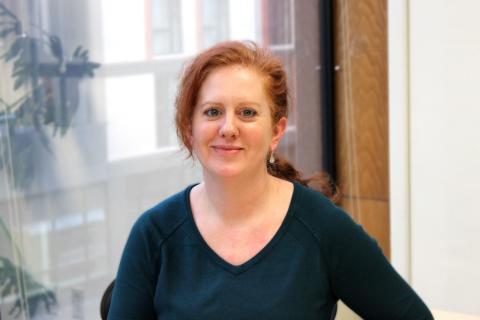 Evaluation Specialist Megan Rogers, MS, draws from a background in social services, psychology, and statistics to create practical evaluation tools that are useful for non-profit and government agencies.
Megan Rogers comes from a family of engineers and accountants, many of whom have a natural propensity toward analytics and math. Growing up, she had a keen interest in understanding how life worked and how problems could be broken down to their core components. "I have always looked at situations from the perspective of 'What's really going on between the lines?'" explained Megan. "I wanted to find out how things worked, or why people behaved the way they did, or what were the unspoken dynamics underlying people's behavior, even at a young age."
In high school, this inquisitive nature developed into an interest in child psychology and child-parent relationships, especially after working in her school's child care center, which served teen mothers and their children. She found herself naturally taking on the role of counselor. After graduating high school at 16, she drove cross-country by herself in a Lincoln Town Car, an adventure which kick-started her love of travel.
After obtaining a Master's of Science in Psychology from Western Washington University, with a concentration in measurement, evaluation, and statistical analysis, Megan decided to focus on child welfare, moving across the country to work for Child Protective Services at the Colorado Department of Social Services.
Family led her to live in different nooks and crannies of the U.S. including rural communities in Montana, Georgia, and California, before ending up back in her home state of Washington. Her career path also took her through a wide array of positions along the way. She's been everything from a court-appointed special advocate to an interim executive director of a nonprofit, worked for a hospital in home health and hospice, and even handled guardianship and conservatorship cases with the judge as a court investigator. As with many social service jobs, her experience working with children and older adults was both rewarding and draining. She liked working to improve the lives of her clients but also struggled with the other factors—known in public health as social determinants—that impeded change.
"Sometimes it's like trying to move a Titanic-sized ship," said Megan. "Especially when working with kids, you have so many factors that come into play, such as families, schools, and even hormones. The job requires patience, empathy, and composure. It's easy to burn out. But I loved working one-on-one with people."
Her experience seeing powerful external factors impacting kids' lives sparked Megan's analytical mind to ask how evaluation could help prevent the problems she saw every day. In her work at non-profit and governmental agencies, Megan found opportunities to feed her analytic interests and strengths by delving into evaluation work. She collaborated on creating needs assessments, questionnaires for local government agencies, and strategic plans. The need for evaluation arose as a theme from her work—a theme that reverberates through her job today.
"Resources are more limited than before, so it's important to know how to best use an organization's financial and staff resources," said Megan. "Agencies need to figure out what programs and processes have value from both a dollar, staffing, and a community-impact perspective. I see evaluation as a vehicle for providing knowledge for strategic decision-making."
Today, as an Evaluation Specialist for NWCPHP, Megan gets to use her social service experience to help organizations improve their work through evaluation. She leads internal evaluations of NWCPHP's trainings and develops tools to measure the work of partner organizations.
Currently, Megan is working on NWCPHP's training needs assessment, which will identify the training interests and needs of public health practitioners in Alaska, Idaho, Montana, Oregon, Washington, and Wyoming.
Outside of work, Megan stays busy being a parent to her 8-year-old daughter and 3-year-old son. She enjoys reading in her spare time, when she has it. The same curious mind that draws her to evaluation and problem solving has led her to share what she describes as her "grandmother's propensity for murder mysteries." She also loves culinary books. In college, she curled up with cookbooks, engrossed in the pages from start to finish as though she was reading a great novel. Today, however, she leans more toward food novels, which focus on the author's experiences with food and culture.
Her love for numbers comes through as a unique hobby. A self-proclaimed "financial junkie," she admits to a fondness for tax season and the development of financial plans to help people live debt-free and build wealth—another indicator of the sense of caring that led her to fields like child psychology and public health.
In addition to reading and financial planning, Megan loves to learn about different cultures through their food, art, and customs. As a child and teen, she remembers family trips to Hong Kong, Malaysia, and Singapore. Stateside, her family used to take long road trips to the National Parks. She's visited almost 150 of the National Park System's 409 official units, which include National Parks, monuments, historic sites, battlefields, and more. Her goal is to make it to all 409 sites in her lifetime, and also to take a few side trips to Ireland, Portugal, and Spain along the way.