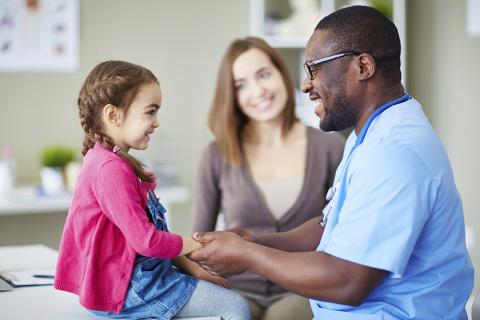 PMH COR project will train primary care providers to better address the mental and behavioral health conditions of their young patients.
Through frequent checkups and preventive care visits, community-based primary care providers (PCPs) are in a position to identify and understand young patients' mental and behavioral health issues early in childhood. However, in a recent national survey of over 500 pediatricians, over 65 percent reported lacking the knowledge and skills needed to recognize and respond to mental and behavioral health concerns of their patients.
The Pediatric Mental Health Collaborative Office Rounds (PMH COR) project, funded by the US Department of Health and Human Services, Division of Maternal and Child Health Workforce Development, aims to train and collaborate with local PCPs in Washington State and Virginia to increase capacity for assessment, management, referral, and access to resources for psychosocial problems in children and youth. Both states will jointly implement the project, with support from their respective health departments.
The project has partnered with NWCPHP's evaluation team to ensure the program's quality and to recommend improvements. NWCPHP has extensive experience in and resources for conducting program evaluation in such areas as public health workforce development, primary care providers, and maternal and child health leadership training.
For PMH COR, the NWCPHP evaluation team will utilize the Kirkpatrick four-level training evaluation model, which assesses the effectiveness of a training based on four goals: reaction, learning, behavior, and results. Evaluation activities will include obtaining baseline participant information, and conducting online session evaluations, webinar-based focus groups, and follow-up surveys.
PMH COR researchers believe PCPs could play a key role in safeguarding the mental health of children.
"PCPs are able to ask sensitive questions about psychosocial adversity, cultural contributors, and parenting stressors, as well as provide home visits and early interventions for responding to behavioral health concerns of their young patients," said Beth Ellen Davis, MD, MPH, Principal Investigator of PMH COR and a Professor of Pediatrics at the University of Virginia.
"Our project seeks to enhance the knowledge and skills of community-based primary care providers to take advantage of these community contacts and opportunities," she said.
The project will recruit a cohort of 10 or more child-serving PCPs, including at least one military pediatrician, in each year of the five-year grant cycle. This year's cohort has been recruited, with providers hailing from both rural and urban areas of Washington. In future years, providers from Virginia will be recruited, as well. Participants will receive a 60-minute monthly learning experience, online and in-person, in addition to other support and resources. The participants will receive continuing medical education credits for the training, which will start this year.
Over 50 community-based PCPs in both states are expected to demonstrate increased knowledge, skills and efficacy in addressing psychosocial aspects of child health, at the end of the project.