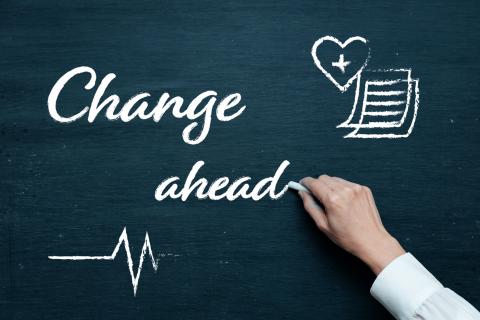 In responding to the COVID-19 pandemic, public health professionals are being called upon to support significant changes within their organizations and health systems, while balancing their existing workloads. The new Engaging with Change training from the Northwest Center for Public Health Practice (NWCPHP) is designed to help them do just that.
Change is a constant, but there are skills and tools that can help us see and seize certain moments as opportunities. With guidance from NWCPHP faculty (Mary Kay Chess, PhD, and Jim Reid, MPA), public health professionals who serve in management or senior leadership positions will build awareness about addressing change — both proactively and when it occurs unexpectedly.
"Change is inevitable and can create a whole new way of looking at situations," Mary Kay said. "Even if you do not personally care for change, you can learn to leverage it within your organization or team."
Training participants will look at systems-level factors that enable organizations to address change as a normal course of business. They will also consider where organizations have the capacity to empower individuals so they can harness the benefits of change, allowing them to gain a greater awareness of what it means to be a learning organization.
"We are adapting parts of our Public Health Management Certificate to meet the urgent needs and requests we have heard for easier access to short, 'bite-sized' management training and resources," said Betty Bekemeier, director of NWCPHP. "Engaging with Change is a great example of this."
Resistance to change is another obstacle the training addresses. Participants will discuss factors that result in resistance so they can explore ways to reduce it. There will be an opportunity to experiment with several approaches that can reduce resistance to change among those who are affected directly and indirectly.
"Change is never easy," Jim said. "It requires planning, because it creates conflict. Therefore, conflict resolution is a key part of change management."
The Engaging with Change training will provide two live, online sessions (April 7 and April 14 from 10:00 am – 11:30 am Pacific) facilitated by Mary Kay and Jim, two 45-minute videos that participants can watch at their convenience, and assignments that will challenge learners to reflect and apply what they've learned. The cost is $250 per person. Registration closes March 22, 2021.
Mary Kay has more than 30 years of experience in health care leadership with multi-state urban and rural systems. She earned her doctorate in transformational learning and change. Jim's expertise is in organizational and leadership development, strategic planning, and dispute resolution. He earned a master's in public administration from the University of Washington Daniel J. Evans School of Public Policy & Governance where he is now a senior lecturer.
For more information, contact Ashley Bullock.