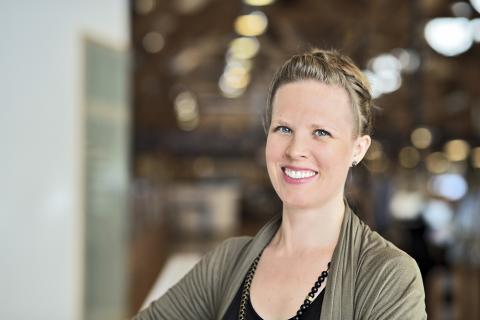 Management Certificate graduate Erin Christensen Ishizaki
Architect and urban planner Erin Christensen Ishizaki enrolled in the year-long Public Health Management Certificate program with the Northwest Center for Public Health Practice (NWCPHP), and what she learned from it has been shaping her work — and her field — ever since.
Public health is influenced by every aspect of where community members live, work, play, and visit. As Erin came to understand this, she wanted a way to consistently integrate public health tools and methods within her field and work at her employer, Mithun, a private integrated design consulting firm. At the same time, there was a growing demand for cross-sector collaboration and knowledge from Mithun clients. This was what drove Erin's Management Certificate project, which has continued to advance.
"We saw a significant increase in client requests and market demand to promote health through design, but not everyone was equipped to deliver the technical knowledge or tools to understand lived experience and health needs," Erin said. "So, what we did for my project was to develop a series of different tools, test them out in different settings to see which ones would be most useful, and eventually make those tools available to all project teams at Mithun."
Erin's Management Certificate project carried on beyond her year in the program and has continued to evolve into a set of wholistic evaluation and assessment tools that architects, landscape architects, and urban planners, and interior designers can use to understand factors that relate to health and inclusion.
Over the last year, Erin and Mithun have been putting a critical eye to how power and privilege affect their existing tools and way of working so they can more intentionally center health equity. In fact, they collaborated with a group of building practitioners to develop a new, open-source framework called "Centering Health Equity." The framework helps connect various built environment practitioners in real estate, project delivery, and public health — not just designers — and supports embedding health equity throughout the decision-making process.
"Decisions move really quickly," Erin said. "So, having a way for people to understand and identify key milestones and their long-term effect on health equity is essential." The framework expands the idea of wellness, including decisions that affect more than just residents, such as what materials to use in building, who produces those materials, and what health exposures those workers might experience.
Mithun and the collaborative group have finalized the first edition of this new framework and are sharing it publicly online as an open call for feedback.
The type of organizational change Erin and Mithun have created is exactly what NWCPHP's Management Certificate is designed to do. It is intended to support scholars in learning to facilitate change in their organization, lead and supervise staff effectively, evaluate and improve programs, and much more. While the program is designed primarily for public health professionals, NWCPHP welcomed Erin and her interest in incorporating public health into urban planning and design.
"This was the perfect opportunity for a working professional like me," Erin said. "I was able to expand my professional network and skill sets with a deeper understanding of public health approaches."
Now, those learned approaches are helping Erin and Mithun evolve, grow, and advance the design and urban planning field in new ways too.