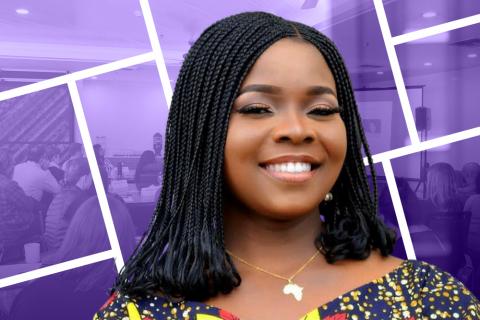 Former Leadership Institute scholar, Princess Osita-Oleribe.
Developed by the Northwest Center for Public Health Practice and the Northwest Regional Primary Care Association, the Leadership Institute brings emerging leaders from public health and primary care together to develop more equitable and effective approaches to health.
Princess Osita-Oleribe first learned about NWCPHP's Leadership Institute by accident. "I saw something about the program on a mailing list. I love to learn, so I took a closer look and realized that it sounded really interesting."
At the time, Princess was working as the health equity manager with a Medicaid Coordinated Care Organization in Oregon, where she was responsible for updating and implementing the organization's health equity plan. She was also on a steering committee that facilitated community health assessments to develop and implement health improvement plans in the local county.
"I'm passionate about health equity," Princess explained. "Sometimes I'm afraid that's a bit of a buzzword and isn't being authentically embodied in many institutions and organizations, and I really wanted to move this from a nice concept into a great practice. I felt it was really important to implement greater health equity measures and programs across our organization. And in order to do that, I knew I needed to learn more about how impactful leaders think and act."
"My organization didn't have a structured professional development budget for my role, so I had to push to secure their funding for the leadership course." Once she had her organization's support and joined the Institute in the spring of 2022, Princess steadily applied her classroom learning to her work.
"For my final project, I decided to implement a health equity dashboard for our organization. At first, there was a lot of pushback. People were wondering, 'Why do we need to do this extra hard work when the state doesn't require it?' I just continued to emphasize how important this was for the population we serve, and over time interest and understanding grew."
"This process taught me that leadership can be very difficult, but that you shouldn't give up on your idea just because things are hard. Sometimes ideas and plans don't come together all at once, but if you're willing to break things into smaller parts and focus on incremental steps, you can make a real difference."
Princess credits the Leadership Institute with helping to prepare her for the challenges and complications of getting buy-in for her ideas. "The materials and content that the Institute provided me were really great. We had so much access to great information, and they gave me all the tools that leaders need. Even now, I still go back to my materials and use them in my day-to-day."
Princess also points to the many networking opportunities the Institute provided her. "It was really powerful to connect with others across the public health and primary care fields, to hear their stories and challenges, and explore the ways that they were making changes. We had a friendship circle that formed and it emphasized community and connection, which was very helpful for all of us."
The Institute's learning activities and lessons impacted more than just Princess' professional life. "Learning to engage with people and be a good leader, that's not something that I keep just for my work life. Who I am at work is the same person I am at home, at school, at my church, and with my friends. Being engaging, sharing things that matter, learning to listen and be responsive —  those things transcend the professional space."
When asked what advice she might have for someone who's considering the program, Princess answered, "I would definitely encourage people to participate in this program. You'll get exposed to a lot of concepts that are important and current in the leadership space. You'll have opportunities to work with some great teachers and mentors who have so much experience in leadership roles. You'll make great professional connections and new friends, and you'll grow into someone who's able to lead and make connections with people in your work and personal life."
The Leadership Institute's next cohort will begin in spring, 2024. Learn more about the Institute and apply for next year's program.