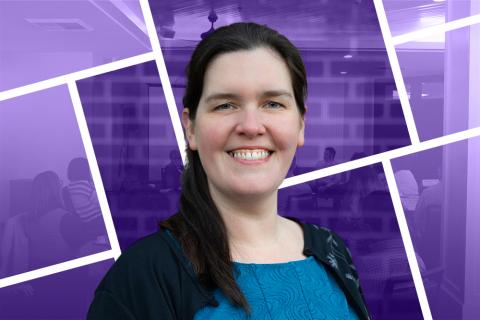 Developed by the Northwest Center for Public Health Practice and the Northwest Regional Primary Care Association, the Leadership Institute brings emerging leaders from public health and primary care together to develop more equitable and effective approaches to health.
We sat down with Jilian Chapman, Administrative Services Manager at the Seward Community Health Center in Seward, Alaska, to discuss how her time in the Institute has benefited her work.
How did you first learn about the Leadership Institute?
I work as the Administrative Services Manager for the Seward Community Health Center in Alaska, and my executive director proposed the program to me. Because we're a small and in many ways isolated community, he recognized that our Health Center was filling the void of public health services in our area, especially during the pandemic. He could see that developing my leadership skills was a great way for our Center to better serve our community.
How has COVID-19 impacted the way you think of the services your Health Center provides?
The pandemic really surprised me and changed my view of our agency. Before the pandemic, I didn't necessarily think of us as public health actors. But as time went on, it became very clear that we were delivering those services in a very essential way. Even today, "post-Covid", our community still does not have a state-level public health presence. There are a lot of reasons for this having to do with geography and funding, but the point is that it's on us to step in and provide that care and services.
What did you focus on for your final project?
We started out hoping to track the social determinants of health that impacted our patients. Because our community does not have a public health nurse physically present in the area, our goal was to move our patients upstream in the local healthcare delivery system.
As we began to research options, we quickly realized that we needed to address shortcomings in our patient intake systems. That drastically expanded the scope of our project. After some further analysis, we landed on identifying and implementing a patient relationship management platform to automate and streamline the intake process, improve patient communications, and enhance the referral process.
What did you learn from the implementation of this project?
I found that when you make a change in one part of a system, it impacts other parts of the system. I learned how important it is to take a holistic approach in order to get buy-in across the whole organization.
This was another area where Covid really impacted us by placing a big strain on our healthcare system. Ultimately, we get a lot of buy-in from our community and have greatly expanded the reach of our services, and I'd say this has been very successful.
How has the Leadership Institute changed the way you approach your job on a day-to-day basis?
I've become much more mindful of the role that communications and outreach play in public health. I mean that both in relationship to other care providers as well as the community we're serving. My position has steadily grown to incorporate more communications and marketing aspects, and I spend a lot of time trying to bridge the gap between clinical staff and the public.
Communication was a recurring topic in the program. Specifically, we focused a lot on how to understand and employ data usefully. The thing is, you can have all the data in the world, but if you can't get buy-in and act on it, ultimately it's useless. By highlighting the importance of maintaining open communication across teams, the program prepared me to take a set of data and turn it into a call-to-action (CTA) that's applicable to our community.
What advice would you give to someone who's considering this program?
I would say that if you have the time, you should absolutely go for it. Often there's a disconnect between primary care and public health, but it's really important for these entities to be communicating better. The conversations I had during my time in the program challenged me to think beyond what I thought I knew about both primary care and public health. And the tools that I gained for having those conversations are things that I continue to draw on today.
I found the Critical Friends Group aspects of the program to be really helpful. That's where we focused on group problem-solving processes, and I've found myself deploying that approach in my job frequently. It's a great way to increase engagement, expand possible solutions and get buy-in across the organization.
The Leadership Institute's next cohort will begin in spring, 2024. Visit the training page to learn more about the Institute and apply for next year's program.