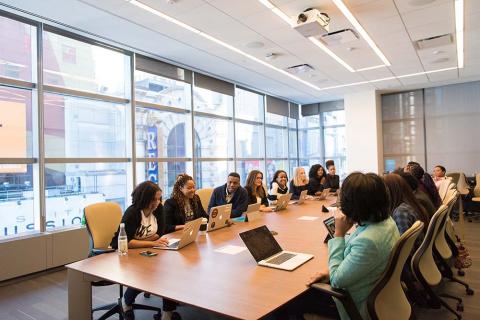 The Northwest Center for Public Health Practice (NWCPHP) is here to support public health professionals in gaining and enhancing their conflict resolution skills so they are prepared for challenging situations before or as they arise.
It is easy to recognize some types of negotiations, such as those that occur in service contracts, labor relations, and the settlement of legal disputes. Other negotiations, such as dealing with colleagues or community members, are less easily recognized but much more frequent. Indeed, every meeting, if not every conversation, is likely to involve some type of negotiation.
"The importance of negotiation and conflict management skills in public health practice cannot be overemphasized, even in normal times," said Jim Reid, course instructor and senior lecturer at the Daniel J. Evans School of Public Policy and Governance at the University of Washington. "Management level professionals provide oversight for programs, operations, and personnel in addition to collaborating with community partners to achieve goals. These encounters naturally create conditions for conflicts and the need for negotiation. Managers need to be equipped to navigate the changes and lead others in the process."
Conflict Resolution: Negotiation and Mediation is an interactive training where participants identify and assess factors that are common to a wide range of negotiations. Participants will consider and practice how these factors can be applied and adapted to specific situations including negotiations between individuals, organizations, community groups, and in multi-party negotiations involving public or nonprofit agencies, the private sector, or other interest groups.
Participants who complete this course will be able to apply interest-based negotiations to resolve disputes, develop a successful negotiation process using interest-based negotiation, use effective communication strategies and techniques to help influence others, understand techniques to remain engaged in the negotiation process, and follow adaptive management practices to renegotiate or refine a consensus agreement.
Live sessions will be offered in an inclusive environment where diverse perspectives, ideas, and opinions are heard and respected. The course is intended for public health professionals serving in management or senior leadership positions, managing others, or engaging with internal and external stakeholders and community partners. People who are frequently underrepresented in leadership roles are strongly encouraged to register.
Eight sessions will occur via Zoom every Tuesday (10:00 to 11:30 a.m. Pacific) from July 12 to Aug. 30, 2022. The cost is $400 per person.
Registration Deadline: Monday, Jun 20, 2022
Questions? Contact Bayo Adetunji.