Description
Good presentation design helps your audience hear and understand your message. In this one-hour Hot Topics webinar, which is part of the Hot Topics series, Nancy Duarte, Principal of Duarte Design, covers foundational presentation design principles from the book slide:ology. The principles discussed will help you look at your presentation from a new vantage point, allowing you to better design your next presentation.
Learning Objectives
Describe what it takes to bring enormous value to your presentation before ever touching a mouse.
Summarize how to layer data for optimum projection.
Deconstruct marvelous makeovers of attendee slides.
Intended Audience
Local and state public health practitioners and leaders; Public health nursing leaders; Local and state emergency management staff; Others who want to hone their presentation skills
Presenter
Nancy Duarte, Principal of Duarte Design since 1990, passionately pursues the presentation development and design niche. One of the largest design firms in Silicon Valley and listed as a top woman-owned business in the area, Duarte Design is one of the few agencies in the world focused solely on presentations. Her work with global companies and thought leaders has influenced the perception of some of the world's most valuable brands and many of humanity's common causes. In 2008 she released the book slide:ology—The Art and Science of Creating Great Presentations where her experience was distilled into best practices for visual business communicators.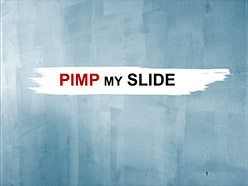 Air Date:
Tuesday, February 17, 2009,

12:00 pm

to

1:00 pm

PST