Description
Often, disasters strike without warning, leaving many survivors feeling anxious and upset. Others may have difficulty thinking or making decisions. As a responder, do you know how to help survivors with their emotional needs? After completing this one-hour online course, you will be able to anticipate the reactions of disaster survivors, identify those people at risk, and know how to connect survivors to appropriate resources.
Learning Objectives
Describe the psychosocial needs of disaster survivors who may be at risk for, or are experiencing, an emotional crisis.
Identify strategies of crisis management to address the acute psychosocial needs of disaster survivors.
Analyze the strengths and weaknesses of existing models of crisis management for disaster survivors.
Intended Audience
Public health professionals and especially mid-level public health workers who may respond to a disaster or other public health emergency; nurses, program managers, administrative employees, and first responders.
Format
This HTML-based online course has videos, audio, and interactive exercises (Flash-based) and should take approximately one hour to complete.
Course Instructor
Randal Beaton, PhD, EMT, University of Washington
Technical Requirements
This course requires certain software and browser plugins to be installed. See our Technical Requirements page for details. You will also need speakers to listen to the audio and videos in this course.
Accessibility
This online training course is text-based and is designed for accessibility. A print version of the course is also available in the Supplemental Material section at the bottom of this page. Please note that the print version does not include videos, audio, interactive exercises, quizzes, or the final assessment. Flash-based interactive exercises and quizzes in the course may not be accessible to screen readers. To receive a print version of the quizzes in this course, please contact nwcphp@uw.edu. If you have any difficulties in accessing the information given in any of our documents or need further assistance, please contact nwcphp@uw.edu.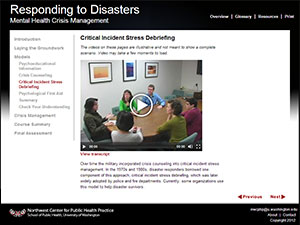 Topics:
Behavioral & Mental Health
Emergency Preparedness & Disasters
Competency Domains:
Analytical/Assessment Skills
Community Dimensions of Practice Skills
Cultural Competency Skills