In this one hour webinar, which is part of the Hot Topics series, Gary Gunderson, MDiv, DMin, DDiv, from Wake Forest University Baptist Health explains how a sense of connectedness helps create community health, improves access to clinical services and fosters recovery, and how this is a critical influence on the future of public health practice. In this 100th anniversary episode, Paul Wiesner, the initial host of the series will return to moderate the session after briefly reflecting on the first 99 episodes.
Learning Objectives
Explain the different meanings of spirit, spirituality, faith, and religion
Explain the structural vocabulary of spirit: congregation, denomination, faith tradition, faith networks and, most critically, "religious health asset"
Explain the early outcomes seen in Memphis from connecting hundreds of congregations with the health systems
Explain the idea of "mediating social structures" and their operational role in improving access and, eventually, for advancing health
Intended Audience
Directors and managers in public health organizations; directors and managers in community health programs of other health institutions such as hospitals; local, state, and tribal public health practitioners
Presenter
Reverend Dr. Gary Gunderson, MDiv, DMin, DDiv, is the Vice President of Faith and Health at Wake Forest University Baptist Health. In this position he oversees the spiritual care services to patients, families, and medical center employees as well as manages marketing and public relations services to more than 4,200 Baptist congregations. Gunderson is a Professor of Public Health Science and the co-author of Religion and the Health of the Public.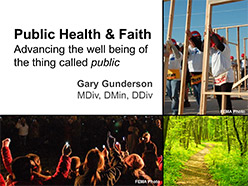 Air Date:
Tuesday, September 18, 2012,

12:00 pm

to

1:00 pm

PDT
Topics:
Behavioral & Mental Health
Cultural Competence
Competency Domains:
Analytical/Assessment Skills
Communication Skills
Community Dimensions of Practice Skills
Cultural Competency Skills
Leadership and Systems Thinking Skills
Policy Development/Program Planning Skills