Recent budget cuts to state, local, and tribal health departments have considerably reduced public health capacity across the country. Yet, at the same time, health reform at the federal level promises new and exciting opportunities for prevention.
In this one hour webinar, which is part of the Hot Topics series, Jeffrey Levi, PhD, Executive Director of Trust for America's Health and Professor of Health Policy at George Washington University School of Public Health and Health Services, provides an update on the technical aspects of the reform and why public health practitioners can be hopeful about the changes.
Learning Objectives
By the end of this session participants will be able to:
Identify new partners in prevention for public health
List five priorities of the National Prevention Strategy
Describe the new vision for public health and community agencies
Intended Audience
Local and state public health practitioners; Public health nurses; Public health professionals outside of government
Presenter
Jeffrey Levi, PhD, is Executive Director of the Trust for America's Health, where he leads the organization's advocacy efforts on behalf of a modernized public health system. He oversees TFAH's work on a range of public health policy issues, including implementation of the public health provisions of the Affordable Care Act and annual reports assessing the nation's public health preparedness, investment in public health infrastructure, and response to chronic diseases such as obesity. In January 2011, President Obama appointed Dr. Levi to serve as a member of the Advisory Group on Prevention, Health Promotion, and Integrative and Public Health. In April 2011, Surgeon General Benjamin appointed him chair of the Advisory Group. Dr. Levi is also Professor of Health Policy at George Washington University's School of Public Health, where his research has focused on HIV/AIDS, Medicaid, and integrating public health with the healthcare delivery system. He has also served as an associate editor of the American Journal of Public Health, and Deputy Director of the White House Office of National AIDS Policy. Dr. Levi received a BA from Oberlin College, an MA from Cornell University, and a PhD from George Washington University.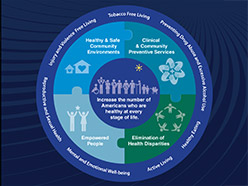 Air Date:
Tuesday, March 20, 2012,

12:00 pm

to

1:00 pm

PDT
Competency Domains:
Financial Planning and Management Skills
Leadership and Systems Thinking Skills