In this one hour webinar, which is part of the Hot Topics series, Michael Kinzer, MD, MPH, and Gerry Croteau, MS, discuss safety standards that address lead exposure at firing ranges.
Learning Objectives
List occupational and non-occupational environments associated with exposure to lead.
Define the general practices for reducing lead exposure in industries where lead is used.
Compare and contrast the use of respiratory protection for reducing worker exposure to lead.
Intended Audience
Local, state, and tribal public health practitioners; Managers and safety professionals at enterprises where lead is used; Safety professionals at law enforcement agencies
Presenters
Michael Kinzer, MD, MPH, CDC Epidemic Intelligence Service Officer, Public Health - Seattle & King County
Gerry Croteau, MS, Research Industrial Hygienist, University of Washington
Discussion Questions
These questions are designed to further your thinking on the topic covered in this webinar. You may print and discuss them with colleagues and other members of your organization before or after watching this webinar.
How is it possible that a worker could have a high blood lead level but not be exposed to airborne lead particles?
Why is the use of respiratory protection considered a "last resort" for protecting workers in environments where lead is used?
Why is worker training an essential component of minimizing their exposure to lead?
How do the findings of this investigation correlate with other reviews of the medical literature on occupational lead exposure?
Resources
Photo of lead pellets by Harshad Sharma.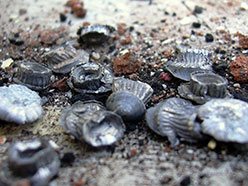 Air Date:
Tuesday, May 21, 2013,

12:00 pm

to

1:00 pm

PDT
Competency Domains:
Analytical/Assessment Skills
Communication Skills
Community Dimensions of Practice Skills
Policy Development/Program Planning Skills
Public Health Sciences Skills