Efforts to "enforce laws, develop policies, and mobilize community partnerships" are essential public health services and thus require practitioners to hone their dispute resolution skills. In this one hour webinar, which is part of the Hot Topics series, Jim Reid, MPA, presents a framework for collaborative negotiations and discusses how to reduce conflict and create agreements that meet the mutual needs of all parties. He also offers case examples where these techniques have been used successfully.
Learning Objectives
By the end of this session participants will be able to:
Identify five key principles of dispute resolution
Recognize the importance and advantages of using an "interest-based" approach to resolving conflict over other approaches, such as "positional bargaining"
Identify and use practical tools, tactics, and techniques to create a successful negotiations process and to be a more effective mediator or negotiator
Intended Audience
Local and state public health practitioners; Public health nurses; Local and state emergency management staff; Public health managers
Presenter
Jim Reid, MPA, is the founder and principal of The Falconer Group, which he established in September 1995. His expertise is in organizational and leadership development, strategic planning, and dispute resolution. In addition, Jim is a senior lecturer at the Daniel J. Evans School of Public Affairs at the University of Washington where he teaches "Conflict Resolution: Negotiation and Mediation as Instruments of Public Policy and Management." He is also an instructor for the Evans School's Cascade Executive Programs, where he trains mid-level and senior executives on resolving disputes, facilitating meetings, building strategic partnerships, and reducing resistance to change. He is also certified in facilitating 360 Leadership Assessments to develop or strengthen the management and leadership skills of executives.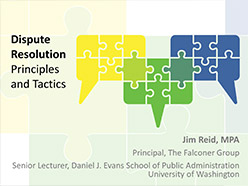 Air Date:
Tuesday, February 21, 2012,

12:00 pm

to

1:00 pm

PST
Topics:
Law and Policy & Ethics
Leadership & Management
Competency Domains:
Communication Skills
Community Dimensions of Practice Skills