Description
In this one hour webinar, which is part of the Hot Topics series, Brendon Haggerty discusses "complete streets" policies and how public health agencies can use them to influence transportation planning for health.
Learning Objectives
List the ten criteria that define a best practice for complete streets policies.
Describe common strengths and weaknesses of complete streets policies.
Identify steps to add value to complete streets policies.
Intended Audience
Local, state, and tribal public health practitioners; local and state planners and engineers; active transportation advocates
Presenter
Brendon Haggerty, MURP, is an urban planner for Clark County Public Health in Vancouver, Washington.
Discussion Questions
These questions are designed to further your thinking on the topic covered in this webinar. You may print and discuss them with colleagues and other members of your organization before or after watching this webinar.
Does your community have a set of policies that act like a complete streets policy?
How could complete streets policies be translated and implemented at the regional level?
Are there other policies needed to complement or fully implement complete streets policies?
Resources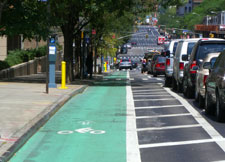 Air Date:
Tuesday, August 27, 2013,

12:00 pm

to

1:00 pm

PDT
Competency Domains:
Analytical/Assessment Skills
Community Dimensions of Practice Skills
Leadership and Systems Thinking Skills
Policy Development/Program Planning Skills
Public Health Sciences Skills