In this one hour webinar, which is part of the Hot Topics series, Amalia Leighton, PE, Civil Engineer and Planner with SvR Design Company, discusses how professional ties between urban planning sectors are being re-established through the development of comprehensive plans, documents that guide a city's parks, housing, commercial space, and transportation infrastructure development. Leighton explains what public health professionals need to know about comprehensive plans and discuss various approaches to incorporating health elements and health goals into their development.
Learning Objectives
By the end of this session participants will be able to:
Identify why a health lens is important in Comprehensive Planning
Recognize community stakeholders that should be brought to the table when planning for health
Support or implement healthy comprehensive planning policies
Intended Audience
Local and state public health practitioners; local and state emergency management staff or human services managers; city officials; community planners
Presenter
Amalia Leighton, PE, is a planner and civil engineer with significant experience in planning efforts as well as implementation projects. From November 2010 – March 2012, Amalia led a team of five subconsultants to create plans in seven King County cities with the goal of reducing health inequities and disparities in King County especially related to obesity. Targeting underserved populations in SeaTac, Des Moines, Federal Way, Burien, Redmond, and Snoqualmie, the work included active transportation planning, land use, and food access planning.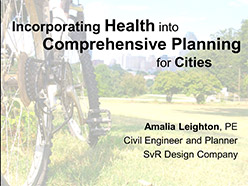 Air Date:
Tuesday, June 12, 2012,

12:00 pm

to

1:00 pm

PDT
Topics:
Environmental Health
Law and Policy & Ethics
Competency Domains:
Community Dimensions of Practice Skills
Leadership and Systems Thinking Skills