Description
Emergency Community Notification Systems (ECNS) work like 911 in reverse, allowing agencies to contact pre-identified groups in the community, poll them, and capture data on their responses. This automated process helps epidemiologists and public health nurses quickly identify the portion of the population that will require in-person interviews in a cost-effective way.
In this one hour webinar, which is part of the Hot Topics series, Emergency Preparedness and Response Staff from Clark County Washington discuss the benefits and lessons learned from implementing an ECNS to identify potentially exposed people during several disease outbreaks.
Learning Objectives
By the end of this session participants will be able to:
Describe a tool to assist disease investigations
Describe the use of Emergency Community Notification System (ECNS) in an incident of high absentee rates in an elementary school
Describe data outputs generated by ECNS
Compare costs of traditional call center models and automated calling systems like ECNS
Intended Audience
Local and state public health practitioners; Emergency Response Coordinators; Public Health Nurses
Presenters
Richard Konrad was trained as a teacher and taught in secondary schools and community colleges before joining the Fire Service. After serving as the Operations Deputy for a mid-sized municipal fire department, he left to help develop one of the earliest Associate Degree Programs in Emergency Medical Services. After moving to the Vancouver-Portland area, he served as the administrator of a regional trauma care and Emergency Management System planning agency. Richard currently works as a Region IV Public Health Emergency Response Coordinator in Washington state.
Lianne Martinez has an A.S. in Criminal Justice and a background in community corrections. She currently works as a Region IV Public Health Emergency Response Coordinator in Washington state. In this capacity, Lianne coordinates the region's Medical Reserve Corps and serves as Sections Chief on a Type 3 All-Hazards Incident Management Team.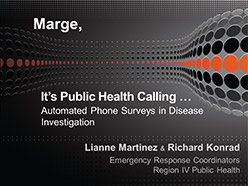 Air Date:
Tuesday, May 8, 2012,

12:00 pm

to

1:00 pm

PDT
Topics:
Epidemiology
Infectious Disease & Immunizations
Competency Domains:
Analytical/Assessment Skills
Communication Skills
Financial Planning and Management Skills