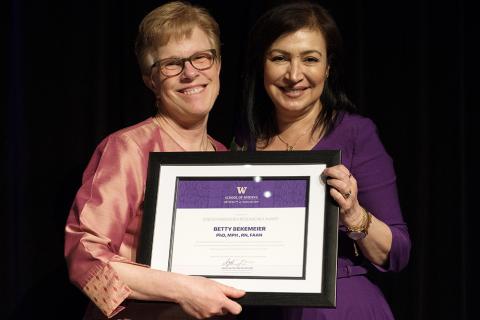 Betty Bekemeier with School of Nursing Executive Dean Azita Emami. Photo by Stephen Brashear, courtesy of the UW School of Nursing.
In recognizing NWCPHP Director Betty Bekemeier, PhD, MPH, RN, FAAN, with its 2018 Distinguished Researcher Award, the UW School of Nursing highlights the value of collaborative, practice-based research to strengthen public health systems.
NWCPHP Director Betty Bekemeier, PhD, MPH, RN, FAAN has received the UW School of Nursing's 2018 Distinguished Researcher Award. The award "recognizes an individual whose research, professional achievements, and cumulative contributions have brought personal distinction, enhanced the profession, improved the welfare of the general public, and brought honor and prestige to his or her field." School of Nursing Executive Dean Azita Emami, PhD, MSN, RNT, RN, FAAN, presented the award at the annual Nurses of Influence Banquet.
Bekemeier was selected for her achievements in practice-based research that advances public health systems and services. But to Bekemeier, the award reflects more than her own successes. In part, that's because of the collaborative nature of her research. "This work is done by a team, not by oneself," said Bekemeier. "I've been surrounded by amazing people over the years, from project teams to PhD students, RAs, and co-investigators."
Selection of a practice-based researcher also reflects burgeoning recognition of the value of public health systems research—and the role of nurses in that work. "I feel very passionate about nurses playing a crucial role in working with communities on improving systems," said Bekemeier.
That role hasn't always been in the spotlight. "Nursing schools have historically prioritized biomedical sciences and clinical work," explained Bekemeier, "so to recognize a nurse-researcher who does public health systems research makes a statement about the importance and growing visibility of our work on population health, prevention, and system improvement."
That statement also reflects a university-wide shift. Bekemeier sees increasing interest across campus—particularly among newer faculty—in working with practitioners on relevant research that matters to communities. "I am excited about the expanding pool of researchers with varied areas of expertise who are interested in conducting research that can change health and prevention systems," she said.
Together, the School of Public Health and the School of Nursing are playing leading roles in this shift. The schools are teaming up with Public Health – Seattle & King County, to create a new joint faculty position, which Bekemeier has been instrumental in helping design. Funded through the UW Population Health Initiative, the new faculty member will work closely with Bekemeier and others to strengthen bridges between the schools and health department to produce research that can strengthen public health practice. The position will focus initially on advancing goals of the King County Best Starts for Kids initiative.
Bekemeier also sees NWCPHP as instrumental to convening and connecting researchers and practitioners, particularly by facilitating new academic health departments and getting research findings into practitioners' hands. "We know practitioners want evidence to guide their work and help them advocate for its importance. They are eager to collaborate with researchers who understand what they do," she said.
Practitioners are also interested in evidence about effective workforce development. "This is a need NWCPHP is well positioned to meet, given our long-standing partnerships with researchers and communities, and our ability to generate data about workforce development through our trainings," said Bekemeier. Such data has the potential to clarify the systems-wide impact of trainings.
It's a concrete illustration of why practice-based research matters so much. "We will struggle forever as a public health community to have adequate funding for workforce development and leadership development if we don't produce evidence about how it changes practice and systems," said Bekemeier. "This is so urgent."