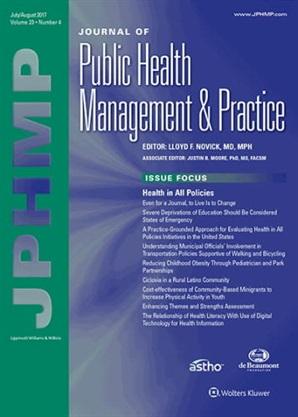 In a new commentary in the Journal of Public Health Management & Practice, NWCPHP Director Betty Bekemeier and Karl Ensign of the Association of State and Territorial Health Officials (ASTHO) discuss existing Academic Health Departments (AHD) and make a case for AHD collaborations to enhance public health research and practice together.
Demonstrating and enhancing the value, effectiveness, and efficiency of public health efforts is increasingly urgent. Through the model of Academic Health Departments (AHD), universities and public health systems can formally collaborate on research that confirms the importance of—and improves—prevention-focused public health practice, explained NWCPHP Director Betty Bekemeier, PhD, MPH, and Karl Ensign, MPP, in the May/June 2017 issue of the Journal of Public Health Management & Practice.
Ensign is Chief of Performance Improvement, Research, and Evaluation at the Association of State and Territorial Health Officials (ASTHO). Just as AHDs build on the expertise of academia and practice, Bekemeier's collaboration with Ensign benefited from the experience and leadership of each.
Ensign interviewed state health directors in Ohio, Rhode Island, and Washington State to describe how state-level AHDs have developed and are structured.
Bekemeier and Ensign then found that commonalities included: shared expertise and personnel; formalization of partnerships; extending partnerships beyond a state's largest university to include smaller institutions; bidirectional sharing of expertise and data between researchers and health departments; strengthening work of faculty and the public health workforce; and assisting public health leaders with large-scale efforts, such as helping health departments with accreditation. Leaders interviewed, including Washington State Secretary of Health John Wiesman, DrPH, MPH, shared a vision of expanding the AHD model to other states.
This work builds on a 2016 AcademyHealth commentary in which Bekemeier argued that strengthening ties between academia, health departments, and other non-governmental public health partners to improve research about population health systems and services is mutually beneficial, produces evidence about how to improve population health effectively and equitably, and is integral to public health modernization.
Universities and health departments have long collaborated to improve public health education, but working together on research is less common. "Academic health departments are a vehicle through which we can formalize and sustain partnerships that can generate evidence important for practice, performance improvement, and ensuring the public's health and health equity—all things around which we have some evidence, but not enough, and not enough direction," said Bekemeier.
Such research isn't easy. "It's hard to prove things that don't happen, but it's far from impossible. We have demonstrated that we can do it, but we demonstrate effective prevention when practice and researchers do research together. I don't feel like we can really accomplish this task, either one of our sectors, alone," said Bekemeier.
"We've been fortunate to have long-standing relationships with strong leaders who are real champions in this area, such as Wiesman, as well as Jeff Duchin and Patty Hayes at Public Health – Seattle & King County," said Bekemeier.
NWCPHP seeks to help further develop and formalize such relationships, and model them for other institutions. NWCPHP has been bringing together researchers and practitioners to establish and strengthen practice-based research networks and gauge interest in this work, including at its 2017 Regional Network Steering Committee meeting in March and its Practice-Based Research Meeting in May.
"I'm really excited about the level of interest among our own practice partners in the region and researchers here at UW—including from the Schools of Public Health, Nursing, Social Work, and beyond," said Bekemeier. More broadly, UW's work to advance population health is highly collaborative, as seen in the UW Population Health Initiative's recent funding call for collaborative research pilot projects.
AHD collaborations take investments—of money, time, and relationships. "I'd like us to help establish more academic health departments in the region. I envision public health systems having strong relationships with universities and schools, improving what they produce together and helping them understand one another's work," said Bekemeier.