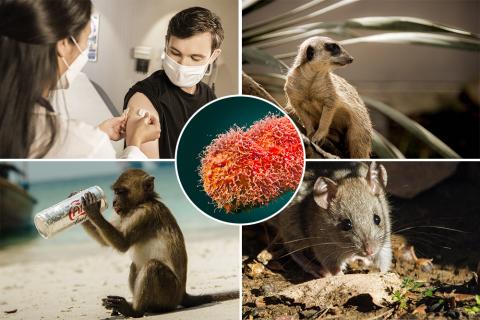 Monkeypox and new infectious threats from zoonotic diseases pose challenges for already strained public health systems and professionals.
The November session of Hot Topics in Practice will share insight from the State Medical Epidemiologist for Washington State about the response to Monkeypox and how public health professionals can prepare for and respond to other zoonotic outbreaks.
During this one-hour webinar, Scott Lindquist from the Washington State Department of Health will talk about lessons learned from the state's response to Monkeypox, including how public health professionals can plan with health equity and concerns of stigma in mind.
With intensifying climate change and rising global travel, Monkeypox spread globally in 2022 as the COVID-19 pandemic continued. Although the spread of Monkeypox has slowed gradually in the United States, the country reported more cases than any other. And the virus is expected to persist as an ongoing low-grade threat.
The monkeypox outbreak, like COVID-19, revealed deep cultural fissures and mistrust of public health in the United States. This led to further stigma for historically oppressed communities, such as LGBTQIA+ people, in news coverage, on social media, and from political figures.
Register today to better understand Monkeypox and responding to zoonotic threats.
Date: November 29, 2022, 12:00 to 1:00 p.m. (Pacific)
Intended Audiences
Local, state, and tribal public health practitioners
Presenter
Scott Lindquist, MD, MPH
State Medical Epidemiologist for Washington State
About Hot Topics in Practice
Hot Topics in Practice is a monthly webinar forum to discuss issues affecting public health practice.
Up to 1 CPH recertification credit may be earned by viewing this webinar. Visit the National Board of Public Health Examiners to learn more.