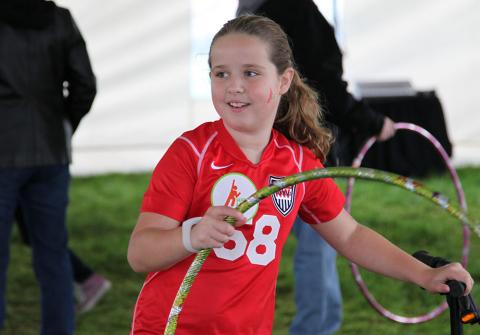 Photo courtesy of the Snohomish County Health Leadership Coalition.
NWCPHP received a three-year grant to evaluate and develop a sustainability plan for the Snohomish County Health Leadership Coalition's Gear Up & Go! program.
To support the mental and physical health of children ages 6–17, 60 minutes of daily physical activity is recommended. Despite the many health benefits associated with physical activity, many children do not reach this daily amount. This is true in Snohomish County, where the Washington State Healthy Youth Survey found that only one in four sixth graders get 60 minutes of daily vigorous activity.
To get more kids moving, the Snohomish County Health Leadership Coalition launched an innovative program called Gear Up & Go!. In the fall of 2013, the program began outfitting thousands of fifth graders in Snohomish County with Sqord PowerPods, a device that tracks physical activity and turns it into points for a friendly social competition. Students wear the device like a wristwatch and sync them at SyncStations located at the participating schools and outside organizations such as the Sno-Isle libraries, YMCA, and Boys & Girls Clubs.
NWCPHP will work with the coalition, the Snohomish Health District, and the Group Health Center for Community Health and Evaluation to evaluate the program and develop a sustainability plan.
"The Gear Up & Go! program is an excellent model of a community health approach fostered by the collaborative efforts of business, health care, education, and nonprofit communities in Snohomish County," said NWCPHP Associate Director and Lead Evaluator, Luann D'Ambrosio, MEd. "Evaluating this important work will help identify school, community, and social determinant factors associated with greater activity and reveal viable strategies to encourage ongoing youth physical activity in the broader community."
The evaluation and sustainability work takes place over the next three years with funding from the National Prevention Partnership and the Office of the Assistant Secretary of Health in the US Department of Health and Human Services.