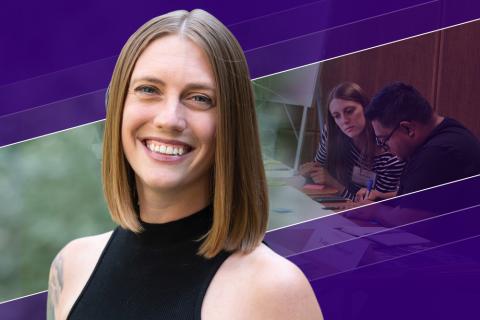 As the Northwest Center for Public Health Practice prepares to bring back its Public Health Management Certificate after Covid, we sat down with former scholar Madison Riethman to discuss the program's impact on her career and life.
Prior to joining the program, Madison had been working with Clark County, Washington, as an epidemiologist on projects relating to the control and prevention of infectious disease in the southwest part of the state. Over time, she steadily became interested in expanding her skills and opportunities.
"I love epidemiology, but it can also have a very narrow focus, and I wanted to expand my involvement in public health programming." Madison explained. "At the same time, I didn't have any experience managing people or programs, and I knew nothing about budgeting, supervising, or designing and implementing projects."
Madison enrolled in the Public Health Management Certificate in the fall of 2018. Several months later, Clark County experienced a massive measles outbreak.
"I was drawn into the measles response as an epidemiologist, but I was also put in charge of a team of fifteen." Madison noted. "So I had a very hands-on and immediate way to put my management training into practice."
Madison and her team were on the vanguard of the measles outbreak response. "That was a very challenging experience, but I was able to draw on the Public Health Management Certificate's materials to understand how to manage people and supervise programs. I was also able to take what I had learned and put it into my final project for the Certificate."
In the summer of 2020, Madison moved to Reed College, in Portland, OR, where she worked as the COVID-19 Response Coordinator and Health Project Manager. In this role she continued to flex her management muscles and was responsible for overseeing a large budget, coordinated responses across different divisions within the college, and contributed to communications strategies and policies. In the fall of 2022, she moved to the Oregon Coalition of Local Health Officials, where she currently serves as the Grant Project and Data Manager.
"The Public Health Management Certificate gave me a wider idea of what my career could look like," Madison said. "Not only did it give me management skills and experience, it also gave me the confidence to establish and pitch my own projects to an employer."
To date, Madison has taken on six separate public health projects as an independent contractor. "I wouldn't have had the skills or confidence to take on those projects without the Certificate."
As she looks back at the program's impact on her career, Madison points to the opportunities she had to connect with peers across the public health spectrum. "I loved being able to talk with other scholars. It was great to learn about their experiences and discuss what they were doing. Beyond the classroom learning — which was very helpful and practical — that networking experience was really positive."
"I would encourage anyone who's looking to advance their public health career to check out this program." Madison said. "This experience gave me a more macro-level way of looking at myself and the opportunities available to me. I received a wide spectrum of management training, and if you're someone who's willing to put in the work and find a good project, you'll get a lot out of this Certificate."
Applications for the 2023–24 program are accepted through May 31, 2023. Learn more and apply today.