Description
Public health's role is to protect and improve the health of everyone in our communities. In this one hour webinar, which is part of the Hot Topics series, Anthony Iton, MD, JD, MPH, looks at how public health can decrease health inequities by reducing chronic disease through community-based prevention. He presents approaches to mapping chronic disease distribution within the community. He also offers a framework for understanding this distribution and coupling it with strong community involvement to reduce health disparities.
Learning Objectives
Describe the distribution of life expectancy by geography
Describe the BARHII model of addressing social determinants of health
Describe the California Endowment BHC (Build Healthy Communities) approach
Intended Audience
Local and state public health practitioners; Public health nurses; Local and state emergency management staff
Presenter
Anthony B. Iton, MD, JD, MPH, Senior Vice President of Healthy Communities, joined The Endowment in October 2009. Prior to his appointment at The Endowment, Iton served since 2003 as both the director and County Health Officer for the Alameda County Public Health Department. In that role, he oversaw the creation of an innovative public health practice designed to eliminate health disparities by tackling the root causes of poor health that limit quality of life and lifespan in many of California's low-income communities. Iton also served for three years as director of Health and Human Services and School Medical Advisor for the City of Stamford, Connecticut. Concurrent to that, he also served as a physician in internal medicine for Stamford Hospital's HIV Clinic. In addition, Iton served for five years as a primary care physician for the San Francisco Department of Public Health. Iton's varied career also includes past service as a staff attorney and Health Policy analyst for the West Coast regional office of Consumer's Union, the publisher of Consumer Reports magazine. Iton, who has been published in numerous public health and medical publications, is a regular public health lecturer and keynote speaker at conferences across the nation. He earned his BS in Neurophysiology, with honors, from McGill University, in Montreal, Quebec, his JD at the University of California, Berkeley's Boalt Hall School of Law, and his medical degree from Johns Hopkins University School of Medicine.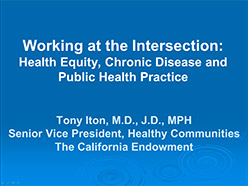 Air Date:
Tuesday, July 20, 2010,

12:00 pm

to

1:00 pm

PDT
Topics:
Chronic Disease
Epidemiology
Law and Policy & Ethics
Vulnerable Populations & Health Disparities
Competency Domains:
Analytical/Assessment Skills
Leadership and Systems Thinking Skills
Policy Development/Program Planning Skills