In April 2012 the Washington State Department of Health declared a whooping cough epidemic. In this one hour webinar, which is part of the Hot Topics series, a panel of public health leaders still in the midst of the outbreak, share their perspectives on declaring and responding to the epidemic. The panel includes: Mary Selecky, Washington State Secretary of Health, Dr. Maxine Hayes, Washington State Health Officer,and Dr. Gary Goldbaum, Health Officer for the Snohomish Health District.
Learning Objectives
By the end of this session participants will be able to:
Understand the incidence and distribution of whooping cough in Washington state
Describe the decision-making process for declaring an epidemic
Understand methods for working collaboratively with partner agencies when declaring and responding to a whooping cough epidemic
Recognize strategies for working with the media during an epidemic
Intended Audience
Local and state public health practitioners; local and state emergency management staff; public health nurses
Presenters
Gary M. Goldbaum, MD, MPH, has been the Health Officer and Director of the Snohomish Health District in Snohomish County, Washington since 2007. A graduate of the University of Colorado School of Medicine (1978) and the University of Washington School of Public Health (1989), he has been certified by the American Board of Family Practice and the American Board of Preventive Medicine. He was the Health Officer for Thurston and Skagit counties (Washington State) from 1987 to 1989, served in multiple leadership roles at Public Health – Seattle & King County from 1989 to 2007, saw patients at Harborview Medical Center in Seattle from 1989 to 2007, and directed the University of Washington Preventive Medicine Residency from 1992 to 2002.
Maxine Hayes, MD, MPH, is the State Health Officer for the Washington State Department of Health. A native of Jackson, Mississippi, Dr. Hayes has lived in Washington State for nearly 30 years. As the state's top public health doctor, her role includes advising the governor and the secretary of health on issues ranging from health promotion and chronic disease prevention to emergency response.
Mary Selecky has been Secretary of the Washington State Department of Health since March 1999, serving under Governor Chris Gregoire and former Governor Gary Locke. Prior to working for the state, Mary served for 20 years as administrator of the Northeast Tri-County Health District in Colville, Washington. Mary has served for two terms as the president of the Association of State and Territorial Health Officials, receiving the 2010 American Medical Association's Nathan Davis Award for Outstanding Government Service; and is a past president of the Washington State Association of Local Public Health Officials. Mary served on the Board of Directors of the National Association of City and County Health Officials.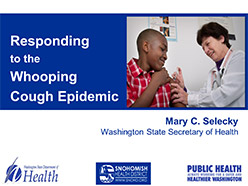 Air Date:
Tuesday, July 31, 2012,

12:00 pm

to

1:00 pm

PDT
Topics:
Communication
Epidemiology
Infectious Disease & Immunizations
Leadership & Management
Competency Domains:
Analytical/Assessment Skills
Communication Skills
Community Dimensions of Practice Skills