Your public health program is up and running but how do you know if it's paying off? This 90-minute online course provides background on program evaluation—who, what, when, and why. It then takes you through the steps to plan and conduct an evaluation. The course follows Joe Jones, an environmental public health manager, as he evaluates his food safety program, so you can see the evaluation process in action and learn how a successful evaluation can help you do your work even better.
Learning Objectives
List and describe the six steps of an evaluation process
Identify key stakeholders in an evaluation
Describe the components and elements of a program logic model
Outline a basic evaluation plan including data collection methods
List three ways to use evaluation data to draw conclusions about a program
Intended Audience
Professionals, including program managers, directors, coordinators, and practitioners, who have responsibility for implementing environmental health and other public health programs; Public health workers who have little or no prior training in program evaluation
Format
This online course has Flash-based interactive exercises and a final quiz. This course should take 60-90 minutes to complete. If you decide to complete the workbook, the course may take three or four hours.
Course Developer
Luann D'Ambrosio, M.Ed.
Assistant Director, Northwest Center for Public Health Practice, School of Public Health, University of Washington
Technical Requirements
This course requires certain software and browser plugins to be installed. See our Technical Requirements page for details.
Accessibility
This online training course is text-based and is designed for accessibility. A print version of the course is also available in the Supplemental Material section at the bottom of this page. Please note that the print version does not include interactive exercises, quizzes, or the final assessment. Flash-based interactive exercises and quizzes in the course may not be accessible to screen readers. To receive a print version of the quizzes, please contact nwcphp@uw.edu. If you have any difficulties in accessing the information given in any of our documents or need further assistance, please contact nwcphp@uw.edu.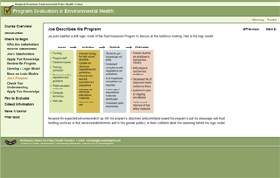 Topics:
Environmental Health
Program Planning & Evaluation
Competency Domains:
Policy Development/Program Planning Skills