Description
In this one-hour webinar, Renee Bouvion, MPH, Lorena Sprager, and Elsa Garcia, Med, provide an overview of issues affecting the health of women who are migrant and seasonal farmworkers. Migrant and seasonal farmworkers play a vital role in the Northwest Region's agricultural industry and economy. Women make up nearly a quarter of migrant and seasonal farmworkers nationwide. These women face many challenges in maintaining their health and accessing health services in rural areas. The presenters discuss demographics for this population and the challenges these women face in accessing health care. They also describe successful strategies for conducting outreach and providing appropriate services.
This webinar is part of the Maternal and Child Public Health webinar series.
Intended Audience
State public health personnel working with mothers, women, children and youth, and families in Region 10, US Department of Health Services.
Speakers
Renée Bouvion, MPH, is the Regional Women's Health Coordinator, Region 10 Office on Women's Health, US Department of Health and Human Services. She works with state and local health departments and community-based organizations in the states of Alaska, Idaho, Oregon, and Washington to promote the health of women and girls.
Lorena Sprager administers farmworker outreach and community health worker programs at La Clínica del Cariño and Nuestra Comunidad Sana, located in Hood River, Oregon. She has over 25 years of experience working with Latinos to promote health, facilitate access to services, and develop leadership.
Elsa Garcia, MEd, is a Behavioral Health Coordinator at Quincy Community Health Center in Quincy, Washington. There she provides counseling and help with solving problems for patients referred to her by medical providers. She also provides community-based preventive health care education.
Purpose
The Maternal and Child Public Health webinar series provides up-to-date information on topics related to Title V maternal and child health (MCH) national performance measures. A performance measure describes a specific need that, when successfully addressed, leads to better health outcomes. As part of the Title V Maternal and Child Health Services Block Grant, all state MCH agencies are required to report on their progress toward achieving the targets they set for these 18 national performance measures.
The series is supported by the Maternal and Child Public Health Leadership Training Program with a grant from the Maternal and Child Health Bureau, Health Resources and Services Administration. The program provides interdisciplinary, graduate-level training in maternal and child public health epidemiology and practice, including applied research, program planning and management, policy development, and advocacy.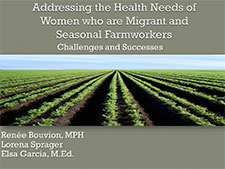 Air Date:
Thursday, January 17, 2013,

12:00 pm

to

1:00 pm

PST
Topics:
Maternal and Child Health
Vulnerable Populations & Health Disparities
Series:
Maternal and Child Public Health
Competency Domains:
Analytical/Assessment Skills
Communication Skills
Community Dimensions of Practice Skills
Cultural Competency Skills