Description
This 45-minute online course shows you how to measure the performance of your local health jurisdiction using logic models and outcome measurement. If you've ever tried to run a marathon, you probably had a plan. That plan might include getting the right running shoes, scheduling your practice runs, eating the right foods, and stepping up your speed as the race draws near. In essence, you've laid out a logic model for a successful outcome. In the same way, your public health efforts will be even better if you plan ahead, assess your progress, make needed changes, and reflect on the outcomes.
Learning Objectives
Describe the components and uses of a logic model
Define outcome measurements and why they are important
Differentiate between indicators and outcome measures
Describe potential uses of outcome measures
Identify measurable outcomes
Determine levels (e.g., community, system, agency, program) of outcomes
Identify outcomes vs. goals and objectives
Intended Audience
Local health jurisdiction staff, particularly nursing staff, and program managers
Format
This training is a forty-minute web-based, Flash presentation. The online course has an audio narration with interactive exercises and scenarios.
Course Instructor
Betty Bekemeier, PhD, MPH, RN
Northwest Center for Public Health Practice
School of Public Health
University of Washington
Materials were used and adapted from Organizational Research Services, Inc., the Washington State Public Health Nursing Directors, and Turning Point Performance Management National Excellence Collaborative. This training is provided by NWCPHP and Washington State Department of Health in conjunction with the Community Health Leadership Forum (formerly the Public Health Nursing Directors of Washington). The training is an effort to support the Community Health Leadership Forum work on Public Health Services for Children and Families to define outcomes of public health interventions.
Technical Requirements
This course requires certain software and browser plugins to be installed. See our Technical Requirements page for details.
Accessibility
This online training course is audio narrated. A print version is available in the Supplemental Material section at the bottom of this page. Please note that the print version does not include interactive exercises, quizzes, or the final assessment. To receive a print version of the quizzes in this course, please contact nwcphp@uw.edu. If you have any difficulties in accessing the information given in any of our documents or need further assistance, please contact nwcphp@uw.edu.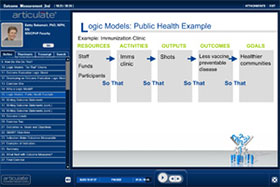 Topics:
Leadership & Management
Program Planning & Evaluation
Competency Domains:
Policy Development/Program Planning Skills