Food safety is a unique and critical role filled by public health agencies. In the event of a foodborne illness outbreak investigation, you may wonder what personal information is protected by privacy laws and what may be shared. You may also wonder about the source and scope of your public health authority to keep the public safe from foodborne illnesses.
This 1-hour course is an introduction to legal issues that arise in public health food safety, from surveillance and outbreak investigation through restaurant inspections and detention of food. The content for the course was developed in partnership with the Network for Public Health Law, whose Eastern Region Office contributed invaluable practical experience and knowledge.
Learning Objectives
After completing this course, you should be able to:
Identify federal privacy requirements related to food safety surveillance and foodborne illness outbreak response.
Describe the source and scope of state and local authority related to food safety.
Explain the administrative process for developing food safety regulations.
Identify the food safety control measures available to state and local authorities.
List common legal issues encountered during the enforcement of state and local food safety provisions.
Target Audience
This course was created for state and local public health practitioners who work in or with food safety programs and the attorneys who work with them. The content is designed to be especially helpful for entry-level Environmental Health Specialists, Epidemiologists, and Communicable Disease Investigators.
Format
Web-based course; includes interactive questions and quizzes. This course should take about one hour to complete.
Course Instructor
Mathew Swinburne, JD
Staff Attorney
Network for Public Health Law - Eastern Region
Technical Requirements
This module was designed to work in most browsers, operating systems, and platforms. However, to view the exercises, you will need the free Flash Player installed on your computer. (Most people already have the Flash Player.) If you experience any trouble viewing the exercises, please download and install the latest version of the free Flash Player. Installation should take only a few minutes.
To view some of the optional links, you will need the free Adobe Reader installed on your computer. See our Technical Requirements page to download these plug-ins.
Accessibility
This online training course is text-based and is designed for accessibility. Please note that the print version does not include interactive exercises, quizzes, or the final assessment. Flash-based interactive exercises and quizzes in the course may not be accessible to screen readers. To receive a print version of the course, please contact nwcphp@uw.edu. If you have any difficulties in accessing the information given in any of our documents or need further assistance, please contact s.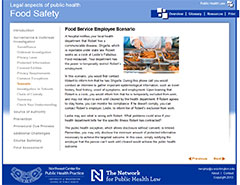 Competency Domains:
Analytical/Assessment Skills
Community Dimensions of Practice Skills
Financial Planning and Management Skills
Leadership and Systems Thinking Skills
Policy Development/Program Planning Skills
Public Health Sciences Skills