Description
In this one-hour Hot Topics webinar, which is part of the Hot Topics series, Harvey Kayman, MD, MPH, discusses ethical decision-making in times of public health disaster. When serious disaster or disruption occurs and the world as we know it changes drastically, we learn that the way we see the world, the way we perceive cause and effect, and the way we evaluate our choices are not necessarily shared by others, even by loved ones or close co-workers. It is important to discuss the principles behind our world views before catastrophe strikes, so we can be better planners and decision-makers during crisis situations.
Learning Objectives
List and describe public health ethical principles and an ethical framework to resolve moral tensions raised by disaster situations.
Describe scenarios that illustrate how this ethical framework can be used.
Develop methods to make decisions with collaborators in the midst of a disaster.
Intended Audience
Local and state public health practitioners and leaders; Public health nursing leaders; Local and state emergency management staff; Community collaborators, including law enforcement, faith-based organizations, and political representatives; Community stakeholders, including tribal peoples, the business community, and educators
Presenter
Harvey Kayman, MD, MPH, comes from a small town in Louisiana, and was educated at Cornell University, the University of Chicago, Columbia University, University of California Berkeley, and University of North Carolina-Chapel Hill. After 25 years of pediatric practice with the Kaiser Permanente Medical Group, and 14 years as chief of patient education in the Fremont, California Kaiser clinic, he became a Public Health Officer; first as a district health director, then as director of maternal and child health for South Carolina, followed by work in emergency preparedness for California. More recently, Dr. Kayman designed and taught a course called Ethics and Public Health in an Age of Catastrophe at the University of South Carolina and then at the University of California Berkeley.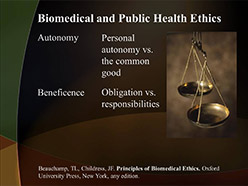 Air Date:
Tuesday, December 9, 2008,

12:00 pm

to

1:00 pm

PST
Topics:
Emergency Preparedness & Disasters
Law and Policy & Ethics
Competency Domains:
Leadership and Systems Thinking Skills
Policy Development/Program Planning Skills