In this one-hour webinar, Julia Richman, DDS, MSD, MPH addresses infant and child oral health topics including infant and child tooth brushing, the use of fluoride, diet, teething, the concept of the dental home, dental caries as a disease process, and the prevention of dental caries.
This webinar is a follow-up to Julia Richman's article, "Dental Caries in Children: Common, Infectious, Rapidly Progressive, and a Serious Threat to Overall Health," published in the winter 2010 issue of the Northwest Bulletin, "Laying the Foundation for a Healthy Life: Preventive Oral Health Care."
This webinar is part of the Maternal and Child Public Health webinar series.
Intended Audience
State public health personnel working with mothers, women, children and youth, and families in Region 10, US Department of Health Services.
Presenter
Julia Richman, DDS, MSD, MPH, is a pediatric dentist with Kid's Choice Dental, in Puyallup, Wash. She graduated in 2009 from the University of Washington's Pediatric Dental Residency Program and the Maternal and Child Public Health Leadership Training Program. Her interests include access to dental care for low-income families, early childhood oral health care, and prevention of dental trauma. She is an affiliate assistant professor at the University of Washington, Seattle.
Purpose
The Maternal and Child Public Health webinar series provides up-to-date information on topics related to Title V maternal and child health (MCH) national performance measures. A performance measure describes a specific need that, when successfully addressed, leads to better health outcomes. As part of the Title V Maternal and Child Health Services Block Grant, all state MCH agencies are required to report on their progress toward achieving the targets they set for these 18 national performance measures.
The series is supported by the Maternal and Child Public Health Leadership Training Program with a grant from the Maternal and Child Health Bureau, Health Resources and Services Administration. The program provides interdisciplinary, graduate-level training in maternal and child public health epidemiology and practice, including applied research, program planning and management, policy development, and advocacy.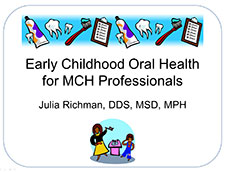 Air Date:
Friday, May 21, 2010,

12:00 pm

to

1:00 pm

PDT
Topics:
Maternal and Child Health
Vulnerable Populations & Health Disparities
Series:
Maternal and Child Public Health
Competency Domains:
Analytical/Assessment Skills
Policy Development/Program Planning Skills