Description
In this one-hour webinar, which is part of the Hot Topics series, Betty Bekemeier, MSN, MPH, RN, focuses on using collaborative leadership in public health preparedness. The presentation differentiates traditional and collaborative leadership, demonstrates how collaborative leadership applies to public health, and describes the utility of using these techniques to respond to public health problems and crises. It also helps participants determine how they might improve their effectiveness by applying these principles to their own public health projects and collaborations.
Learning Objectives
Describe how collaborative leadership enhances effectiveness in response to a public health crisis.
Identify specific principles of collaborative leadership that would be useful for enhancing your own effectiveness in collaborating with new public health partners.
Describe opportunities in your own work setting in which collaborative leadership can be used to increase the effectiveness of your agency's preparedness activities.
Intended Audience
Local public health department staff; State public health department staff participating in preparedness efforts; Community stakeholders participating in preparedness efforts
Presenter
Betty Bekemeier, MSN, MPH, RN, is a Public Health Nurse with 19 years of experience in public health practice. She is Deputy Director of The Robert Wood Johnson Foundation's Turning Point National Program Office at the University of Washington (UW) School of Public Health and is a doctoral student at the UW School of Nursing. She holds leadership positions on the Board of the Washington State Public Health Association and in the American Public Health Association.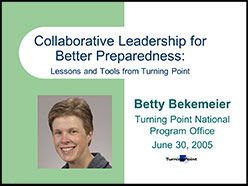 Air Date:
Thursday, June 30, 2005,

12:00 pm

to

1:00 pm

PDT
Topics:
Emergency Preparedness & Disasters
Leadership & Management
Competency Domains:
Community Dimensions of Practice Skills
Financial Planning and Management Skills
Leadership and Systems Thinking Skills