Description
In this one-hour Maternal and Child Public Health series webinar, Laura Porter and Kathy Carson present information on new scientific discoveries about the lifelong impacts of adverse childhood experiences shed light on the intergenerational benefits of home visiting. Porter shares information about the ACES study, including data from Washington State. Carson discusses some of the evidence of outcomes for home visiting and how understanding the impacts of childhood trauma can impact home visiting practice. This presentation is aimed at people working with young children and families and anyone interested in parenting and child development.
This webinar is part of the Maternal and Child Public Health webinar series.
Intended Audience
State public health personnel working with mothers, women, children and youth, and families in Region 10, US Department of Health Services.
Presenters
Kathy Carson supports planning and program development of community health services for Public Health - Seattle & King County.  She has 39 years experience in public health, beginning as a public health nurse and in a variety of program management and leadership positions since 1985.  Her professional focus is parent child health and home visiting.
Laura Porter serves as the Staff Director for the Washington State Family Policy Council.  She is responsible for the day-to-day operation of the Council, including leadership support, policy development, and implementation of the Council's mission and statutory responsibility.  In addition, she is responsible for administrative and fiscal oversight of the Family Policy Council Community Public Health and Safety Networks, a network of 36 local affiliates which engage more than 10,000 Washington residents in efforts to reduce child abuse and neglect, youth violence and other major social problems.
Purpose
Title V Maternal and Child Health Services Block Grant, all state MCH agencies are required to report on their progress toward achieving the targets they set for these 18 national performance measures.
The series is supported by the Maternal and Child Public Health Leadership Training Program with a grant from the Maternal and Child Health Bureau, Health Resources and Services Administration. The program provides interdisciplinary, graduate-level training in maternal and child public health epidemiology and practice, including applied research, program planning and management, policy development, and advocacy.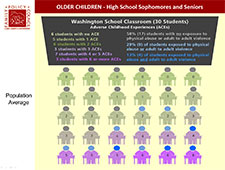 Air Date:
Thursday, June 16, 2011,

12:00 pm

to

1:00 pm

PDT
Topics:
Maternal and Child Health
Violence and Injury Prevention
Vulnerable Populations & Health Disparities
Series:
Maternal and Child Public Health
Competency Domains:
Analytical/Assessment Skills
Community Dimensions of Practice Skills
Policy Development/Program Planning Skills