Description
In this one hour webinar, which is part of the Hot Topics series, leaders from Washington's Comprehensive Health Education Foundation explain the statewide plans to coordinate efforts addressing adverse childhood experiences (ACEs).
Learning Objectives
Describe the impacts of ACEs on health throughout the life course.
Give examples of ways to build resilience against the effects of ACEs.
Describe the activities of the ACEs Learning Institute.
Intended Audience
Local, state, and tribal public health professionals; Board of health members and other elected officials; Client-serving organizations
Presenters
Melanie Gillespie, Executive Director, Comprehensive Health Education Foundation
Laura Porter, Director, Adverse Childhood Experiences Learning Institute, Comprehensive Health Education Foundation
Discussion Questions
These questions are designed to further your thinking on the topic covered in this webinar. You may print and discuss them with colleagues and other members of your organization before or after watching this webinar.
What is the role of public health in the prevention and mitigation of ACEs?
What are the implications of ACEs for your work?
What agencies and organizations in your community are potential collaborators on work related to ACEs?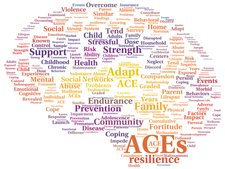 Air Date:
Tuesday, May 27, 2014,

12:00 pm

to

1:00 pm

PDT
Topics:
Behavioral & Mental Health
Cultural Competence
Maternal and Child Health
Vulnerable Populations & Health Disparities
Competency Domains:
Analytical/Assessment Skills
Community Dimensions of Practice Skills
Cultural Competency Skills
Policy Development/Program Planning Skills
Public Health Sciences Skills