Description
In this one-hour webinar, which is part of the Hot Topics series, Sharyne Shiu-Thornton, PhD, MA, provides an overview of how to reach Limited English Proficiency (LEP) populations as part of public health preparedness. She reviews the conceptual framework of cultural competency, and the need to understand diversity and differences as well as adapt to them.
Learning Objectives
Define culture, diversity, and cultural competency.
Explain the conceptual framework of cultural competency.
Describe a model for reaching LEP communities regarding public health preparedness.
Identify key steps in culturally competent preparedness planning.
Summarize the principles of community based participation in public health preparedness planning.
Intended Audience
Public health workers involved in emergency response; Emergency Management and Planners; Community health clinics
Presenter
Sharyne Shiu-Thornton, PhD, MA, is a Senior Lecturer in the Department of Health Services at the University of Washington School of Public Health and Community Medicine. Her research interests are cultural competency and community-based participatory research, and she has a longstanding interest in medical anthropology and ethnic minority health. Dr. Shiu-Thornton has more than 20 years of experience as a diversity/cultural competency trainer with a specialized focus on providing services and developing, managing, and evaluating programs for Asian immigrant/refugee populations.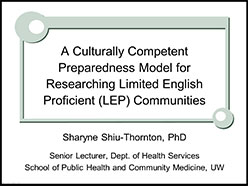 Air Date:
Wednesday, June 28, 2006,

12:00 pm

to

1:00 pm

PDT
Topics:
Cultural Competence
Emergency Preparedness & Disasters
Competency Domains:
Communication Skills
Cultural Competency Skills