Description
In this one-hour webinar, which is part of the Hot Topics series, Ira SenGupta, Executive Director of the Cross Cultural Health Care Program, highlights standards as a set of guidelines and strategies for improving public health preparedness. The five steps to cultural competency are utilized to demonstrate the successful movement from cultural bump to cultural congruence in individual and community partnerships for health.
Learning Objectives
Identify key concepts of the 14 Culturally and Linguistically Appropriate Services (CLAS) standards as a benchmark for effective public health services.
Define the concepts of diversity, culture, and cultural competency and their relevance in public health preparedness.
Describe practical applications of culturally competent communication strategies in public health preparedness.
Intended Audience
Public health and healthcare professionals interested in communicating effectively with individuals and communities; Public Information and Media Relations personnel; Administrators
Presenter
Ira SenGupta, is the Executive Director of the Cross Cultural Health Care Program. She has developed and conducted over 3,000 hours of cultural competency trainings in the past year alone. These trainings include the recent completion of cultural competency trainings for the entire staff of the Washington State Department of Health. Ira has conducted major cultural competency institutional assessments and led several community-based research projects.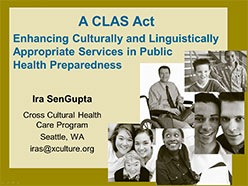 Air Date:
Tuesday, February 28, 2006,

12:00 pm

to

1:00 pm

PST
Competency Domains:
Cultural Competency Skills