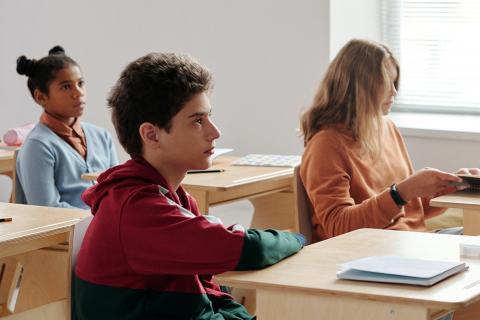 The Northwest Center for Public Health Practice will be evaluating a Washington state school program aimed at reducing sexual violence.
Adolescence is frequently when sexual violence is first experienced, as 40% of women with a history of rape first experienced sexual violence before age 18. These experiences can have lifelong, negative health consequences.
Most sexual violence prevention programs are for mid- to late-adolescence or college students, when sexual violence is most prevalent. Yet, effective interventions to prevent sexual violence among adolescents before it occurs are rare, lack adequate evidence, are individual-focused, and are resource intensive.
NWCPHP hopes to help change this by collaborating with the Washington State Office of Superintendent of Public Instruction (OSPI) to evaluate the impact of its new Youth-centered Environmental Shift (YES!) Program. The program is based on the best available evidence for preventing sexual violence at the level of a whole school community.
The overall goal of YES! is to create a culture within middle schools where students are emotionally and physically safe, supported, and free of abuse, specifically sexual violence. The program is focused on preventing sexual violence before it begins and providing a school-wide program that is effective and scalable for other schools. A key component of YES! is authentically engaging students to help shape program implementation.
"It is thrilling to see so much attention on the YES! Program where authentic youth engagement and youth voices drive and shift changes to school climate," said Andrea Wessel, OSPI sexual violence prevention specialist. "We're really excited to explore this collaborative approach that centers students as the experts of their own experiences."
The evaluation team is comprised of faculty and staff from NWCPHP at the University of Washington and Harborview Injury Prevention and Research Center. During the initial three-year pilot of the YES! Program, the evaluation team will assess the feasibility and acceptability of the program. To do this, the evaluation team — through a collaboration with school systems at the state and local level — will collect sensitive data from students and staff at three middle schools piloting the program over the course of three years.
This pilot evaluation is made possible thanks to $1.12 million in funding from the National Center for Injury Prevention and Control at the U.S. Centers for Disease Control and Prevention.
"It's exciting to be generating evidence about a program so focused on creating healthy environments for youth on a larger scale beyond the individual focus," said Betty Bekemeier, director of NWCPHP. "Programs like this can have a much bigger effect on youth development and our communities by helping prevent harm before it happens. And other states and school systems will want to know how YES! works and why. Ultimately, we are trying to provide future generations with more effective programs."
NWCPHP is also requesting an additional $1.2 million in funding over two years to expand the evaluation to more schools following the pilot, allowing for a more rigorous evaluation of whether YES! reduces violence victimization and perpetration, has an impact on the risk and protective factors associated with sexual violence, and is sustainable and scalable.
With these program evaluations, schools could better understand how to create emotionally and physically safe environments that have long-lasting, positive impacts for community health.