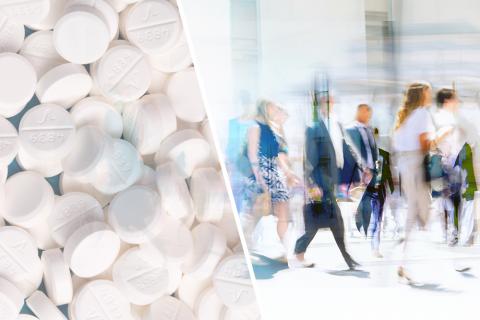 Fentanyl overdoses are a leading cause of drug overdose deaths in the United States. In Washington State, overdose deaths involving synthetic opioids (mostly fentanyl) have increased 10-fold over the past five years. In 2021, approximately 3 in 4 opioid overdose deaths involved synthetic opioids.
The December session of Hot Topics in Practice will explore data and trends on fentanyl overdoses in Washington State. Participants will identify misconceptions and misinformation about fentanyl and learn how community-level initiatives are succeeding in addressing the overdose crisis.
During this hour-long webinar, Katie Strozyk and Noah Frank will summarize data regarding fentanyl overdose In Washington State. Katie, an Opioid Response Coordinator for Thurston County's Public Health & Social Services, and Noah, a Drug User Health Epidemiologist from the Washington State Department of Health, will use data to help separate fact from fiction when it comes to fentanyl use and deaths caused by overdose. They will also examine local initiatives to address the overdose crisis, and explore options and opportunities for developing further programming.
Register today to learn how to separate facts from fiction when it comes to fentanyl use, plus learn ways that various communities are addressing the ongoing overdose crisis.
Date: December 20, 2022, 12:00 to 1:00 p.m. (Pacific)
Intended Audiences
Local, state, and tribal public health practitioners
Presenters
Katie Strozyk, MPH
Opioid Response Coordinator, Thurston County Public Health & Social Services
Noah Frank, MPH
Drug User Health Epidemiologist, Washington State Department of Health
About Hot Topics in Practice
Hot Topics in Practice is a monthly webinar forum to discuss issues affecting public health practice.
Up to 1 CPH recertification credit may be earned by viewing this webinar. Visit the National Board of Public Health Examiners to learn more.