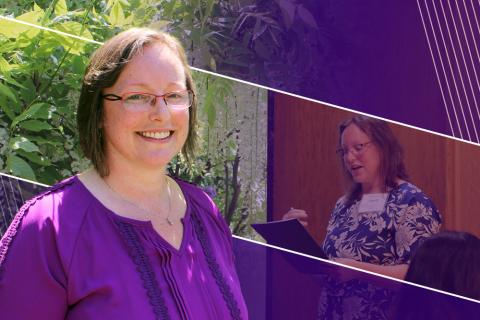 Janell Blackmer has been involved with the Public Health Management Certificate since its inception in 2011. Janell began as the Certificate's program coordinator, and moved to her current position of Director for the 2019–20 program year. She also completed the program as a scholar in 2013.
"I wanted to see first-hand how the program works," Janell explained. "I was curious to see how scholars struck a balance between the program's demands and their own work. Being able to go through the experience gave me great feedback and helped us adjust the Certificate's expectations. I think we've managed to design the program so that it's practical, realistic, and emphasizes life-long learning."
Janell pointed to the unique challenges faced in public health since the pandemic struck. "There was a lot of turnover across public health during the pandemic, and one outgrowth of that is we've seen a lot of people moving into management positions who don't have formal management training. This Certificate is targeted at people who need those foundational management skills. This includes financial management and budgeting, program evaluation, managing people and teams, and more."
In addition to the program's shifting emphasis on managing in a post-COVID world, Janell highlighted the program's emphasis on Diversity, Equity, and Inclusion (DEI) materials. "The program went through an anti-racism audit last year, and we realized we wanted to be better at prioritizing these values. We firmly believe DEI training is essential for improving the overall practice of public health, and we're going to send our graduates back into their careers with these necessary skills."
In addition to the Certificate's focus on DEI, Janell pointed to the program's integrated final projects. "These are opportunities for scholars to apply their learning in a real-world situation that's important to them and their organizations. Every block of the program provides scholars with specific skills and resources, and they also get coaching and support from our instructors throughout the entire year."
Janell also emphasized the Certificate's valuable networking opportunities. "Scholars connect with peers working all over the region and across various disciplines in public health. The opportunities to learn from one another and be inspired by others' work are amazing."
"At the end of the day, people get into public health to improve society and their communities. This Certificate is a great way to get tangible, real-world management experience that can lead to really amazing changes in the world."
Applications for the 2023–24 Certificate program will be accepted through May 31, 2023. Visit the Public Health Management Certificate to learn more and apply for this year's cohort.