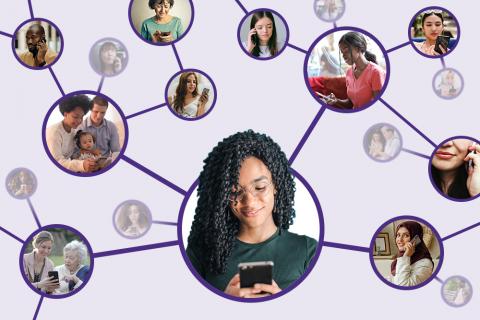 With the right support, young adults are ready and willing to be information bridges for their social networks so friends, family members, and neighbors from their language and cultural communities have access to vital health information.
NWCPHP faculty member Hendrika Meischke, a professor in the Department of Health Services, and student Najma Abdi, recently discovered this readiness during a spring survey with more than 250 undergraduate students in the School of Public Health.
They are collaborating with NWCPHP to develop the training people need to be effective and confident information bridges in their communities. The team hopes to have the training available by spring 2021 for a pilot project with UW students.
"We know that social networks can be the most trusted sources during disasters and emergencies," Hendrika said. "So, after learning young adults want to help provide health information — including COVID resources — to people in their language or cultural networks, we knew we needed to develop support for them in similar ways to CPR or awareness about strokes and heart attacks."
The online training will help lay audiences reduce barriers to health information across different language and cultural communities, increase proficiency in effectively communicating COVID-19 information, and improve the ability of underserved communities to respond to non-COVID health care emergencies during the pandemic.
Hendrika and Najma began drafting content for the training earlier this summer. And Hendrika credits Najma with making the project possible.
Najma analyzed the survey data and saw that people wanted help sharing health information with their cultural communities but felt they needed training or support to do it accurately and effectively. And Najma knows what that is like from her own personal experiences.
Najma is a Somali refugee who resettled in Boise, Idaho, with her family when she was 5 years old. When she was 9, her family moved to Seattle where she eventually became an information bridge for her own community in King County. During her time as an undergraduate, she has taken part in the Somali Health Board's efforts to increase mental health awareness and is now a part of their Population Health Initiative regarding COVID-19 testing barriers.
Earlier this summer, Najma also participated in King County's Vulnerable Population Strategic Initiative summer internship program. This program is a partnership between the UW and Public Health — Seattle & King County's Emergency Services division that focuses on improving the interaction and communication between emergency medical services and vulnerable communities.
"Because of my background as a bi-lingual refugee, I understand the importance of minimizing health barriers by supporting people to take action in their own communities and provide needed change," said Najma. "Language and cultural barriers can compromise the health of individuals and families. As a future public health leader who has seen these barriers in my own community, I have a responsibility to eliminate social injustices — and the resulting barriers — that prevent people of all communities from equal access to care."
The future training will prepare participants to use different communication channels and recognize symptoms of life-threatening illness, such as strokes and heart attacks. In addition, the training will have simulated case scenarios, a toolkit of suggestions to effectively communicate emotional topics, and interactive data portraying health disparities throughout Washington state, among other resources.
After developing the training, NWCPHP will help evaluate participants' learning, the utility and sustainability of the training, and if the training needs adaptations.
This project is made possible thanks to funding from Pacific Hospital Preservation & Development Authority (PHPDA).