Foodborne Outbreaks: Fresh Vehicles, Stale Methods
Summer Institute Plenary Session August 10–14, 2009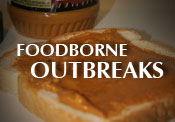 This year we saw peanut butter removed from shelves across the country. It was one of the worst outbreaks of foodborne illness in the United States in years with an estimated 22,500 people affected, including nine deaths.
The far-reaching consequences of foodborne illness, coupled with inundating media attention and increasing governmental focus, creates challenges and opportunities for the evolving role of public health. This plenary will investigate these increasingly common foodborne illnesses. Past response efforts will be reviewed with an emphasis on challenges in investigation and recommendations for future approaches.
Participants will interact with expert Paul Cieslak, MD, who will lead the plenary. Dr. Cieslak is Section Manager of Acute and Communicable Disease Prevention in the Public Health Division at the Oregon Department of Human Services, with extensive background in foodborne illness. By the end of this plenary, participants will be able to name three unusal vehicles in recent foodborne disease outbreaks and name three shortcomings in recent foodborne investigations.
This plenary is one of four presented at the NWCPHP 18th annual Summer Institute for Public Health Practice held this summer in Seattle, Washington. The Summer Institute is dedicated to analyzing public health today and looking forward to public health tomorrow. Registration is now open—see the web site for details.
Screening in Public Health Practice
The epidemiology online training series just got better. We've added the new training module, Screening in Public Health Practice. Screening to identify diseases or conditions before illness or symptoms occur saves lives and resources. This module examines current screening practices, such as mammograms, and the role screening plays in the public's health. See web site for more details.
Paul Wiesner Promoted to Clinical Associate Professor
On June 1st it was announced that our own Paul Wiesner, MD, was promoted to Clinical Associate Professor within the Department of Health Services at the University of Washington. Dr. Wiesner is well-known as the voice of the NWCPHP web series Hot Topics in Preparedness, among many other things here at NWCPHP. We congratulate him on this achievement. Dr. Wiesner's new title will be effective July 1.
18th Annual
Summer Institute
August 10–14, 2009
Register now and save $300!
This summer promises to be exciting with two NWCPHP training events in one week. For the first time, the Seattle meeting for the Northwest Public Health Leadership Institute will coincide with the 18th annual Summer Institute for Public Health Practice. Summer Institute courses begin on Monday, August 10th at the University of Washington's Seattle campus.
Course Topics:
Epidemiology
Health Communication
Program Planning & Evaluation
Skills for Managers
Plenary Topics:
Foodborne Illness
Public Health Accreditation
Public Health Preparedness & Public-Private Collaboration
Health Directors Dialogue

Free Online Training
Hot Topics in Preparedness
June 30: Reflecting on Decision-Making During the Novel H1N1 Influenza Epidemic