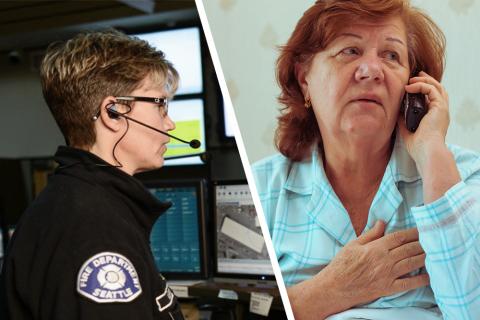 NWCPHP launched a new training for emergency and crisis line operators, so they can respond effectively to people with limited English skills.
Language barriers can be a matter of life or death for limited English proficiency callers in acute emergency response situations. Emergency response professionals need appropriate cultural competency skills to respond effectively to these calls and to navigate these barriers. This course helps people who answer emergency calls understand the difficulties people with limited English skills face during emergency calls. The self-paced training also provides best practices professionals can use with and without the aid of interpretation.
"Preparing crisis line workers to communicate with limited English speakers can help save lives and ultimately help reduce health disparities," said Hendrika Meischke, a faculty member of NWCPHP and professor in the UW Department of Health Systems and Population Health who specializes in health communication research and training. Hendrika led the team who developed this new training.
With this new training, participants will learn to describe how language barriers pose multiple challenges to safe, efficient, and effective prehospital emergency care, as well as be able to articulate how bias interrupts effective communication.
NWCPHP has a long history as a regional training center, providing essential support for public health and primary care professionals, from bioterrorism to rural data collection. NWCPHP has also been a regional Preparedness and Emergency Response Learning Center with the U.S. Centers for Disease Control and Prevention. Because of these experiences, NWCPHP knows that trainings like Communicating with Limited-English Proficiency Callers are critical in supporting frontline workers who help to support public health.
"We know crisis line workers want to be able to help everyone who calls them," Hendrika said. "And this training is one tool that may help them in providing excellent care to all communities, regardless of what language they speak."
Create a free account in PH LearnLink to enroll in this course today.
The Northwest Center for Public Health Practice developed Communicating with Limited-English Proficiency Callers with support from the King County Emergency Medical Services (EMS).