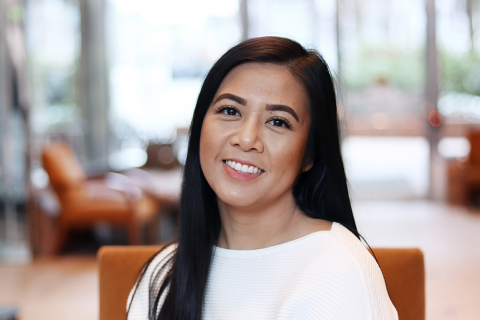 NWCPHP's new operations manager, Ria Francisco.
Ria Francisco is the new operations manager for the Northwest Center for Public Health Practice.
She joins the team after three years as a fiscal specialist with the Health Promotion Research Center and Center for Public Health Nutrition, which are located in the University of Washington's Department of Health Services in the School of Public Health. Previously, Ria worked as a student assistant, fiscal technician, and specialist with the UW Department of Microbiology. She is experienced with pre-award and post-award research administration, financial management, and purchasing.
Ria talks more with us about herself and her new role at NWCPHP.
What brought you to NWCPHP?
I have enjoyed working for UW for the past seven years and was drawn to NWCPHP because of the collaborative efforts the team makes in linking academia and practice communities together. The center is able to create innovative ways to offer valuable resources to the practice communities and also convey everyday practice perspectives to academia. Each individual at the center is very passionate about their partnerships in the community and actively improving the quality and effectiveness of public health practice. I love seeing everyone's enthusiasm towards this common goal. This working environment is new and exciting for me, because I am accustomed to mainly being on the administrative and finance side of the work. This team approach makes my role more meaningful for me as I support the center's mission.
What unique perspective and skills do you bring to NWCPHP?
As the operations manager, I will be working closely with faculty and staff on grant proposals and management, while also collaborating with outside agencies and funders to ensure the success of proposals and awards. For nearly two decades, I have worked at the University of Washington, where I gained a thorough understanding of various complex financial systems for grant and budget oversight. Within the UW Department of Health Services, I focused on learning about pre- and post-award grant administration. Throughout my career, I have worked with numerous funders, including the U.S. Centers for Disease Control and Prevention, National Institute of Health, Washington State Department of Health, and Robert Wood Johnson Foundation. My experience and skills will be vital in managing external funding for the center's training, research, and evaluation activities.
What are you most looking forward to in your new position?
NWCPHP's close teamwork across specialized groups is one of its strengths in achieving its mission to link academia and the practice community. I'm looking forward to joining that collaboration and supporting my new teammates in my specialized role with operations — including financial management, human resources, and general operations — so center activities can flow smoothly and efficiently.
I also look forward to continue learning about the evolving fields of public health and population health. After working with the Department of Health Service for several years, I value the approach UW and NWCPHP take in supporting health and equity for community members through their cross-sector collaboration.
What are your interests and hobbies outside of the office?
My hobbies include paper crafting and DIY projects. With two kids running around the house, it is therapeutic to have some down time with miscellaneous crafts, such as card making and designing party décor. Born and raised in Seattle, I enjoy watching sports, especially the Seahawks and NBA games (if only the Supersonics were back).
My family and heritage are also very important to me. I am Filipino-American with a huge family. We are close-knit and love to bond over delicious food like lumpia, adobo, and pancit. Most of my free time is spent with my family over meals and board or card games. With two younger kids in the family, our current favorites are Monopoly and Uno.