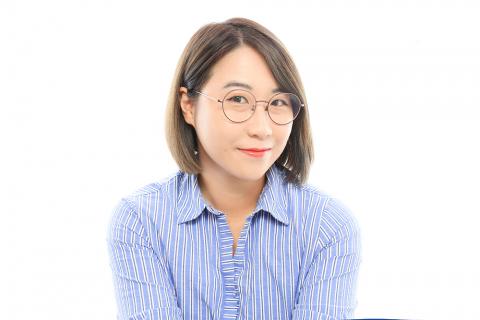 NWCPHP's new graphic designer, Seonah Jeon.
Seonah Jeon recently joined the Northwest Center for Public Health Practice as a graphic designer, alongside the center's current designer, Wes O'Seadna.
Seonah will support design for promotional and educational materials, as well as online trainings for public health professionals. She has experience creating design themes and graphics for branding, presentations, and illustrations, along with training videos, websites, and materials in public health and environmental sciences.
She earned her master's in graphic design at the Academy of Art University in San Francisco. Previously, she was a special education teacher at Ulsan Taeyeon School in South Korea and earned her bachelor's in elementary special education at the International University of Korea.
Seonah talks more with us about her career focus and the unique perspective she brings to NWCPHP.
What brought you into the intersection of public health and design?
Before NWCPHP, I worked as a special education teacher in Korea and then as a user-experience design intern at a medical software company that provides virtual clinics via a text-based and artificial intelligence-powered mobile platform. Although I changed my career path from teaching to graphic design, I still had an interest in how I can assimilate my teaching experience into design to improve public issues with innovative design and technical skills. By chance, NWCPHP came up in my search and 'Eureka!'
What do you think public health professionals in the U.S. can learn from other countries, like South Korea, that are using visual communications to improve public health?
You might have seen news that South Korea became one of the most successful nations in containing the spread of COVID-19. To be able to achieve this goal, the Korean government shared the TRUST campaign with its citizens — Transparency, Responsibility, United actions, Science/Speed, and Together in solidarity. These are the core values that South Korea is pursuing in response to the COVID-19 crisis.
Learning these core values and potentially applying them in the U.S. could help public health professionals have effective cooperation and coordination with the public to improve health outcomes during this unprecedented health crisis.
In addition to the TRUST campaign, Korea has provided timely details of the situation through websites, mobile apps, and text alerts. Innovative mobile apps allow people to take self-diagnostic assessments and learn if masks are available in nearby pharmacies through interactive maps. The apps also provide guidelines and infographics about social-distancing and taking personal sanitary measures. These helpful communication tools provide fast and accessible care.
What are you most looking forward to in your work with NWCPHP?
I am looking forward to designing animated video series and interactive promotional materials to provide effective learning for public health professionals. As education is not only about teaching but also about inspiring people. Animated videos help learners feel more motivated and engaged throughout the course. During the pandemic, virtual learning is becoming an inevitable method for all ages.
What are your interests and hobbies outside of the office?
It's been a little over one year since I moved to Seattle from San Francisco. I have moved a lot and lived in different nations, as well as different cities within the U.S. Since I am new to the Seattle area, I am trying to gather information about fun activities and scenic places that I can explore. Another interest I have is getting a boating license, so I can sail the beautiful lakes in Washington and go fishing. When I have spare time these days, I usually play piano and guitar.